Acts of Kindness Winners Revealed

2 Comments
January 11, 2008 – 3:57 am popping..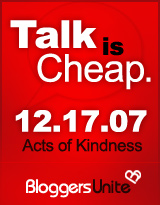 On December 17th 2007 bloggers all around the globe took part in a blog campaign: Bloggers Unite in Acts of Kindness. The idea was to do an act of love, kindness and or compassion and blog all about it on the given day. The result was an overwhelming response from hundreds of bloggers who shared their experiences! There is no official count on the number of entries but fellow blogger Andy Beard featured 98 posts two days after the end of the campaign including my post. :-)
When I did my act of kindness, I didn't even think there were prizes involved. I'm sure the same was true for all who supported the call hence its success. It wasn't forced. It wasn't show off. The entries were real and from reading the different posts, one can feel the love and effort involved in accomplishing the acts.
I was pleasantly surprised to find my blog among the TOP 20! I am listed among the eight through seventeenth place (in no particular order) winners and the prize is an AD placement on USA Today Print Edition!
Here's the complete list of winners lifted from the BlogCatalog blog:
First Place — BlogWorld Conference Attendance, Full Page Ad in Blogger & Podcaster, iPod Touch

Listening..Learning..Living
Second Place — 1/2 Page Ad in Blogger & Podcaster Mental Stimulation

Mental Stimulation
Third Place — 1/2 Page Ad in Blogger & Podcaster

Keep It Simple Solutions
Fourth Through Seventh Place (No Order) — 1/4 Page Ad In Blogger & Podcaster

Life Prints

Original me Tees

Sushi for lunch

My Den
Eighth Through Seventeenth Place (No Order) — USA Today Advertisement

Ruthie's Reason

Local Biz Bits

Sinigang For the Soul

Wahm Cafe

Sharani – Girl on a Road

Guiding Vision

Katalusis

Live from Waterloo

Jessica in Rome

Jericho Monster
There is no word yet as to when the ad will appear but hopefully they will announce in advance so I could grab some copies! What an honor to be picked among the roll of posts! This is simply awesome and I can't wait for the next challenge! Congratulations to all winners and supporters of Bloggers unite! © 2007
Browse Timeline