Travel Philippines!

13 Comments
January 15, 2008 – 7:19 am popping..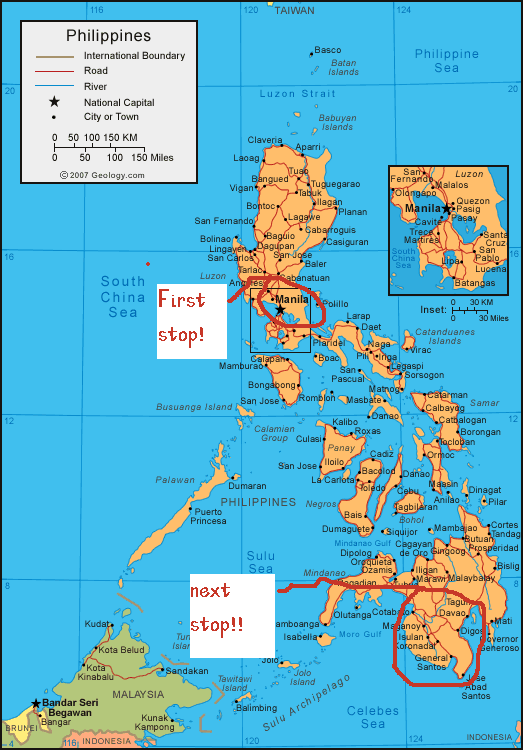 In a few, I will be visiting my homeland Philippines! I haven't been back in four years and the anticipation is killing me!! I will be all over the place, but will be based mostly in my hometown- General Santos City ( the Tuna Capital of the Philippines) and Metro Manila (the country's Capital)…
The horror, fun, stressful part begins at the Ninoy Aquino International Airport where it's rated and reviewed among the most inconvenient if not worst airports in the world! You bet I'll be giving my own view on the subject once I get settled there!
After this trip, I don't know when I'll be back again… Life happens to me here abroad too. How I wish I can travel often to the Philippines but there are tons of other places I want to see in my lifetime. It will just have to wait again.
For now I made a list of everything I want to try and do in the Philippines. These are things I loved then and know I still do!!
Things to do in Manila:
EAT SINIGANG! need I say more?!
Ride a jeepney (public transportation smaller than a bus)
Commute in the Manila LRT (I lived in Manila for 7 years but never had the chance to ride the local train)
Binge on the fishball and squidball from a sidewalk vendor
Ditto for Mangga at Bagoong (Mango & Shrimp paste)
and lest we forget- the "fear-factor", gad-awful-disgusting looking yet uniquely tasty street food isaw (Barbecued pig's intestines) and balot (unhatched duck egg)!
Go to SM Megamall (I know, I know. Even my sis and nieces prefer Eastwood, Rockwell, and the new Ayala now… but I loved that mall!)
Eat at all you can eat restos
Dine in at Jollibee!! Chicken joy & rice with tons of gravy! Yay!
Go to the beaches in Batangas and wherever else in Luzon!
Try wakeboarding!! (calling Ivy! LoL)
Babysit my nieces! I just adore and love them!
Ahh, Sago at Gulaman (Agar agar and tapioca pearls)- a cold refreshment on a hot day, bring it on!!
Malling, malling, malling
Beach, beach, beach (Baguio is out! Been there almost all summers of my life while still living in the Philippines!)
Maybe go to Laguna (hot springs), Subic and or Pampanga?!
Things to do in General Santos (Gensan)
Have a lechon (roasted pig) party every week I'm there! Ok, maybe every other week! Haha
Eat Durian til my tummy aches…
Find "camachile"!! love this, love this, love this!
Ride the tricycle! I miss this economical, ingenious, totally dangerous mini public transportation which can only be seen in subdivisions and small cities or towns in the Philippines.
Go to the Gensan Fishport and buy fresh tuna for sashimi and sushi!
Eat "panga" (grilled tuna jaw) to my heart's content!
Have a home-cooked, other "fear-factor" type of food "dinuguan" (pork's blood), Kilawin (meat tripes and innards), Kare-Kare (beef stew like food in peanut sauce featuring beef tripes!) with bagoong (shrimp paste), Gulami (a spicy concoction of beef, noodles and veges in peanut sauce based soup!), Nilagpang (a chicken soup with a twist from western visayas), Batchoy (a distinct Filipino noodle soup) and Pancit Bijon (Noodle stir fry) – all of which are our cook's specialty at TatayPepe's. What can i tell you except that we have the best cooks in General Santos City!)
Visit DAVAO city! the best city in the Philippines in my books!! I was born in Davao and lived there for 6 years!
Eat some more sinigang!
Have daing, tuyo, dilis and dried pusit (assorted dried fish and dried squid) and itlog na maalat (salted eggs) for breakfast
Learn to play badminton!
Drive!
Eat guava, papaya, mango, pineapples, jackfruit, rambutan, lanzones, pomelo, mangosteen and saging na tundan! (assorted fresh tropical fruits)
Binge on inihaw na saging (grilled bananas) and turon + banana cue (fried bananas) and kamote cue (fried sweet potato)
Go to the beach every other day or perhaps I can rent out a cheap cottage and live by the beach for a week or two!
SPEAK the visayan dialect! (I'm proud to say that I am fluent in Visayan as I am in Tagalog!) :-)
Go to the wet market and just enjoy the craziness and the stinky smell (no such thing as that where I am)!
If you read through the list, you'd know how much I miss eating Filipino Food! While I can have some of the dishes mentioned here in the US- it is not the same… Anybody got some suggestions on places to see and other food to try while I'm visiting the Philippines?! :-)
Well Philippines, ready or not- here I come! © 2007
Browse Timeline