Pacquiao Finishes Business with Marquez: Is it Really Finished?

2 Comments
March 16, 2008 – 12:29 pm popping..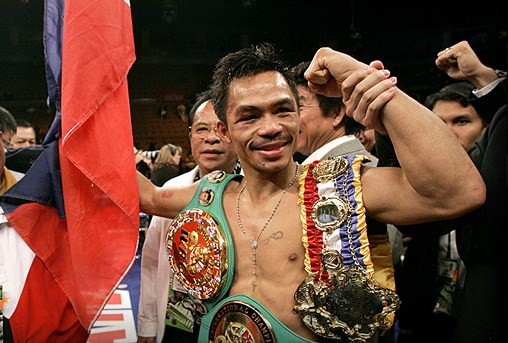 Photo lifted from HBO file
In what seemed like Manny "Pacman" Pacquiao's closest fight ever, he wins last Saturday's rematch with Juan Manuel Marquez by a hair's breadth. The fight lasted 12 rounds with the two champions still standing despite blood gushing into their eyes and faces.
Ultimately, it was Pacquiao's strong left hook hitting Juan Marquez in the face in the third round that proved to be the deciding factor where two judges (Tom Miller and Duane Ford) favored Pacquiao, 114-113 and 115-112 against that of Judge Jerry ROth's 115-112 in favor of Marquez. The ferocious hit knocked down Marquez for a few seconds. He immediately regained his composure and continued to exchange equal blows with Pacquiao.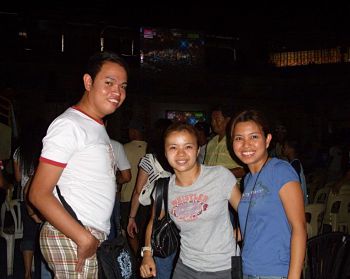 with friend Jaz and Michael
I watched the game at the Lagao Gymnasium, live via satellite in Pacman and mine's hometown in General Santos City, Philippines. It was hard to tell who really won until the final announcement. For a while there, we thought Marquez would have won it- if not for that knockdown he received from Pacquiao.
Manny Pacquiao and Juan Manuel Marquez waited four years for the rematch last March 15, 2008 yet somehow it is still hanging. In their first match in 2004, it ended with a draw. Now, Pacquiao wins by split decision. The decision victory for Pacquiao is somewhat hard to accept because depending on which side you are, you'd think that the other party lost and your bet won. In the other party's camp, they feel they won and you lost.
General Santos City and all of Philippines and OFWs are rejoicing yet when all the fun fare is gone and we regain our composure, why do I- along with some, feel reluctant to jump up and down in jubilation?!
I have full respect for Manny and his craft and because I am from General Santos, I am for Manny Pacquiao. Nonetheless, it would have been sweet victory for Manny and the rest of us if he won it clear cut by a knock out. All doubts in our minds especially those not convinced that Pacquiao won it- would have been eased.
I say there should be another rematch in the future. As to how, when and what's at stake? I don't know. But to answer the question: is the Pacquiao-Marquez business really finished? I think not.
Congresswoman Darlene Custodio-Antonino after watching the match at the Lagao Gym
Notre Dame University and Lagao Gymnasium, General Santos City
Video Replay: Announcement of Manny Pacquaio as new World Boxing Council (WBC) superfeatherweight title holder
Video Replay: Round Three of "Unfinished Business" Match between Pacquiao and Marquez
http://www.livevideo.com
Browse Timeline