Discover Zip Line at Camp Sabros, Kapatagan, Digos City, Philippines!

21 Comments
March 31, 2008 – 12:46 pm popping..
Explore Camp Sabros, Kapatagan!
The latest buzz in the island of Southeast Mindanao, Philippines is Camp Sabros located in Kapatagan, Digos City. A beautiful area atop a mountainous wilderness of lush greens, 3980 feet above sea level. The cool climate is very welcoming in contrast to the 91 °F / 33 °C temperature in the lowlands. Just about every spot is a photo perfect opportunity! If you're lucky, you can even see Mt. Apo's majestic form on a clear day. We weren't so lucky.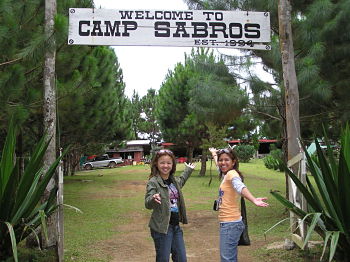 Camp Sabros used to be a private resthouse of the Sacdalans until word got out of how breathtaking the place is! It is managed by brothers Edwin and Pando Sacdalan hence coining "Sabros," short for Sacdalan brothers.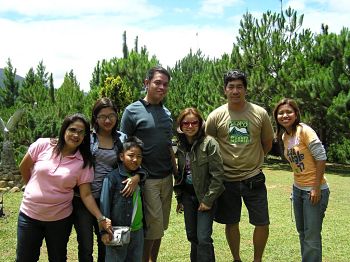 L-R: Aling, Sheila, Pooh, Mitch, Jaz, Edwin Sacdalan-co owner of Camp Sabros and Moi!
The zip line ride is a recent addition to the camp but now is primarily the reason people from all over flock the park. My best friend Jaz along with other friends in General Santos got invited last year for a private outing but there was no zip line at that time. When the camp was featured in the Philippine TV show Sports Unlimited showing TV personality, Dyan Castillejo having the time of her life riding the zip line, I knew I had to experience it before going back to the States. So I did it!!
I have a slight fear of heights but I just braved it! 380 and 400 meter long, 180 feet deep, the zip line in Camp Sabros is considered the longest zip line in the Philippines. Edwin was so gracious and helpful. He personally assisted our group during our rides! Check out our video and you'll see how fidgety and restless I was as we were being prepared for the ride and strapped. But I did it, I conquered the zip line! What a thrilling experience!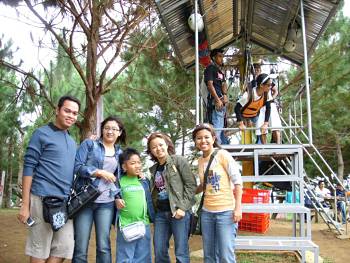 Some basic information:
1. Travel Time.
Expect about an hour and a half to two hours drive either coming from Davao or General Santos City.
2. Transportation.
You need a 4×4 truck or SUV to conquer the rough, rugged and steep road about 6 minutes short of reaching the camp. For the adventurous and driving via car, you can always leave your vehicle at the base camp of the Mt. Apo National Park and the Mt. Apo Mountaineers' Trail checkpoint and trek uphill for about 20 minutes or so to get to Camp Sabros.
3. How to get there.
Either from Davao or General Santos, just follow the national road going to Digos City. When you're in Digos, find the sign that says "This way to Kapatagan" along the right side of the highway. You can't miss it coming from Davao, but we did from Gensan because the sign is facing one way- from Davao side! Turn right and let the winding road take you to Kapatagan and at the base of the Mt. Apo National Park and Mt. Apo Mountaineer's trail checkpoint.
4. Accommodation.
There are log cabins with fireplace and its own comfort rooms available for rent for 4 to 10 persons. The price ranges from Php 1,200 to Php 2,000. Personally, I don't recommend the overnight stay and suggest the day tour only unless you crave the idea of a Baguio-like atmosphere where it's cooler at night and there's fog everywhere. Having spent almost all my summers in Baguio City and now living in the east coast, the last thing I want for a vacation is to be in a cool place.
We left General Santos City around 9am and arrived at the camp around 11. We checked out the area, ate our packed lunch, went for the rides of our life in the zip line and by 3pm we were ready to head back home to General Santos.
The thing is, after riding the zip line and checking out the entire area for like 10 minutes- what do you do?! There's absolutely nothing else! The good part is, there is no rush except when the camp gets really crowded (and there's a long queue at the zip ride) then you might want to allow extra time. On normal days, a full day is enough to do everything. The camp covers a small area that there's really not a lot to explore.  You can commune with nature and get in touch with your inner self, etc. but all I'm saying is that: take lotsa photos, explore, experience the zip, have a picnic and go home! That sounds better but that's just me…! Go ahead, try the overnight stay- you might get to see Mt. Apo's peak when the fog clears!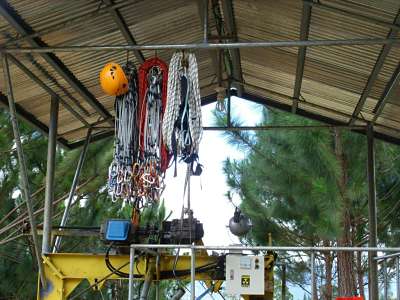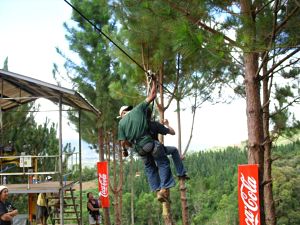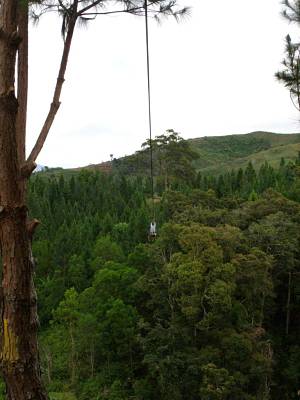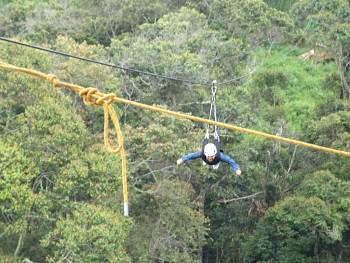 5. Fees.
The place is wonderful and the zip line ride was fantastic! One thing that impressed me more however is the FREE entrance to the place! Absolutely no entrance or corkage fees. You only pay for the zip line ride! How nice is that? The zip line fee isn't so bad either!
One zip line ride and one cable car ride to bring you back:
Riding in twos: Php 150.00/head
Riding solo: Php 200.00
Riding the zip line to and fro: Php 400.00
6. Food.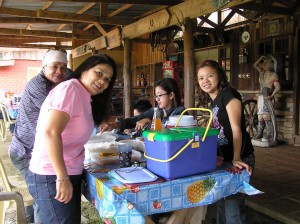 Mess hall
Have a picnic, bring your own baon (packed meal)! That's what we did, so really, all we only paid for was the zip ride and gasoline for the pick up truck. They offer food and drinks to order if you don't want to bring food. The prices for snacks and food are so affordable (from Php20.00 to Php50.00)! Don't expect gourmet food as you are in the middle of nowhere. Just your basic Tapsilog (Beef jerky, rice and egg) and corned beef with rice kind-of-meal should do just fine.
7. Contact information
Currently, the only way to know get more information is getting in touch with the owners directly. For more inquiries, contact Edwin Sacdalan at 09208750015. As you know, this rising attraction in the Southeastern Mindanao is flocked everyday with local tourists. Edwin is also getting calls by great number so if you have to contact him, introduce yourself via text messaging first for courtesy before making the call. You're more likely to be entertained that way when you call as your number is already registered via text.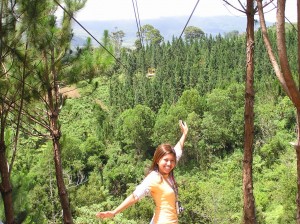 Good luck and enjoy the ride!
Browse Timeline