Ever Tried to Google Your Name? That Could've Been a Movie!

5 Comments
April 30, 2008 – 3:47 pm popping..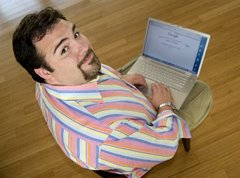 Jim Killeen, Executive Producer/Director
Google Me, The Movie
We've all done it! Admittedly, I do. It's among my fave pastimes in the internet: Googling my name, my family's or somebody else's name. It's always interesting what one can find by Googling a familiar name. It's even more surprising to find a name exactly the same as ours.
For Filipinos and I guess for people with Spanish lineage, it is very rare to find names that's exactly theirs. Blame it on our parents who seemed to find pleasure in blessing us with 2 or more! I have 4 names (including my middle name, which is actually my mother's maiden name) with Maria as the first name. My three other sisters have Maria for their first names as well and they have at least 2 more excluding our last name.
In America and most parts of the world, people have only one first name, a middle name (that is actually just any other name-not from their mother's maiden name!) and a last name (which could be taken from the father's or the mother's). Most often, they would drop the middle name altogether and just use a first and last name as in James Smith, Charles Davis, or Jennifer Taylor. Much easier to Google and finding a match, isn't it? Sure beats finding the exact person with the 4 names I have!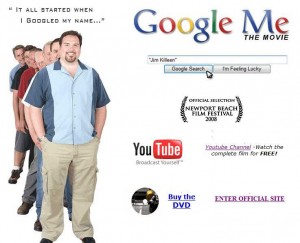 This guy from Los Angeles, Jim Killeen takes Googling his own name to the next level! He made it into a movie! It's the latest buzzword now here in America, "Google Me"! Like you and me, he Googled his name and found a list of his namesakes. This lead to an idea of what if I track and meet these people? He did and thus transformed his remarkable journey from different parts of the world into a documentary-movie that premiered in YouTube last Friday entitled Google Me.
"What do a cop, a swinger, an Irish priest, an engineer, a father of eight, an Aussie and a gambler have in common?" says the YouTube description. The documentary of course, stars 7 guys named Jim Killeen.
I was really impressed with the whole concept! Considering that we all have done it: Googling, that is. Yet, this guy thinks, what's really in a name? what could I possibly have in common with these guys who have the same name as I have? Is it just the name? By realizing the idea, he met, connected and bonded with 6 other Jim Killeen and you know they each have found a friend in each other for life. This is another one of those, if you have an idea- do something about it! Follow where your heart takes you! The result may pleasantly surprise you and impact your life forever!

The 90-minute film is still available in YouTube for FREE for a limited time. The official website sells the Google Me DVD for $29.85 including shipping throughout the United States.
________________________________
ON THE SIDE: I am back from a long, very satisfying vacation in the Philippines! I am back to reality! :-(
Browse Timeline