ROMlet What? Boost and Boast Your Blog Popularity

4 Comments
May 27, 2008 – 8:24 am popping..
As if I don't have enough widgets on my blog, I found another handy blog tool that I couldn't resist having. The name is ROMlet.
ROMlet is a three in one widget: a brag badge, bookmarking tool and stats counter- for now. Who knows what other cool features this fresh website has yet to add since starting only a year ago? At a glance it looks as though it is just another blog social networking copycat but wait, there's much more to it!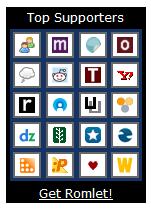 *Romlet is useful to both a blogger and their blog readers in multiple ways, despite the deceptive simplicity of the widget itself. Romlet helps a blogger quickly assess their own daily statistics and see their refering sources without logging into an analytics account. In turn, Romlet shows a blog's reader the best buttons for bookmarking and supporting a blog. It also encourages readers to return to a site, out of curiosity bout refering sources.*
On its website, you can see "Currently Popular Articles on Romlet User Sites" which attracts you to click and read more- (like the Blogrush widget or Entrecard). It offers incentives to users by getting and giving referrals. It displays current and on-site information to you and your readers. It allows bookmarking of blog posts like Addthis; but unlike Addthis, *ROMlet automatically provides buttons that are up-to-date and relevant each time a visitor sees it. Like a FeedBurner readership badge, Romlet shows information about incoming visitors but is limited to one kind of statistic: number of feed readers. Romlet shows off the best statistics by displaying top referers at any given time.*
The process of registration and putting the widget on my blog was hassle-free! It took me about a minute to set everything up.
You'll find yourself comparing it with a lot more blog resources available but you can't deny it's uniqueness. To go on, it works very much like MyBlogLog, Blog Catalog, Bumpzee, FuelmyBlog, RSS readers, Feedjit it, Stats counter among others but rolled into one, making it really another useful, relevant widget to have.
See the widget live on my right sidebar! Get your own and boost and boast your blog popularity!
Browse Timeline