Ringo.com Ends Service Soon

1 Comment
June 3, 2008 – 5:32 pm popping..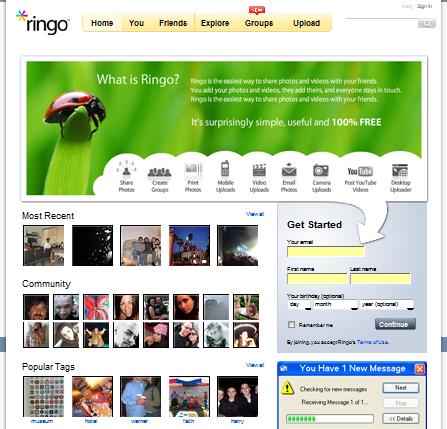 Ringo.com (PageRank 6, Alexa rank 2,683), the US based online photo and video sharing con social networking site is ending its services soon. I could very well see why! There's not enough there to survive in the social networking world that's Myspace (PR 8, Alexa 6), Friendster (PR 7, Alexa 41) and Facebook (PR 9, Alexa 7) territory. Their traffic is not comparable and way below that of the big 3. Not even to that of smaller sites like Linkedin (PR 8, Alexa 201), Bebo (PR 7, Alexa 109), MyYearbook (PR 6, Alexa 832), Orkut (Google site, No PR set, Alexa 2), Tagged (PR 6, Alexa 192), etc.
I am a member but let's see, when was the last time I logged in? Last check, it was over a year ago! The only reason I joined was that some friends invited me there. I never really did anything other than post a photo or two. I haven't even been back on my Friendster account in 8 months! In Facebook, in 3 months or so. I am a member of other social networks like Multiply (PR 6, Alexa 148), Xanga (PR 7 Alexa 231), Wayn (PR 6, Alexa 852), and Shelfari (PR 6, Alexa 12,115) (and I don't see the need for a Myspace account!). haven't been to those sites lately either. How your interests change over the course of time.
There are hundreds more social network sites out there and it's not going to slow down anytime so long as people have that need to belong somewhere- social networks will be there. Sadly, the quality, social responsibility and integrity of some of these sites have degraded. The environment has become a mere popularity contest. What has become of some are shallow, empty, narcissistic, judgmental if not antagonistic sites.
As for Ringo, the company will be all right. They're the same group who owns Monster.com and Tickle.com. They will just venture on to other areas. I remember Yahoo Photos closing its site a year ago which was fine as they also own the giant Flckr- that photo sharing site.
Ringo will officially close on June 30, 2008. They just added a feature that will allow users to download back the photos stored in the account. So if you have a profile with them, save your photos by logging on before the closing date.
Please take time to answer the short poll I have on the sidebar. I just changed my template, and still playing  with the layout and desing. I don't think I'll be putting a poll for the time being. Thanks and enjoy the rest of the week!
Browse Timeline