Wonderful Revelation For Arnel Pineda and Journey: CD Album Review

12 Comments
June 26, 2008 – 8:43 am popping..
The much anticipated Journey 3-disc CD/DVD full album debuted at number 5 in the Billboard 100 and as of June 21, 2008- "Revelation" is currently number 6 and steady. Its Single "After All These Years" is at number 21 at the Top Hot Adult Contemporary Tracks. ;-)

This independent record sold 104,000 copies on its first week of sales "marking the band's biggest first week sales since 1996's TRIAL BY FIRE," according to Wal-mart stores- its exclusive distributor in the United States. How's that for track record for Arnel Pineda's international debut and Journey's comeback?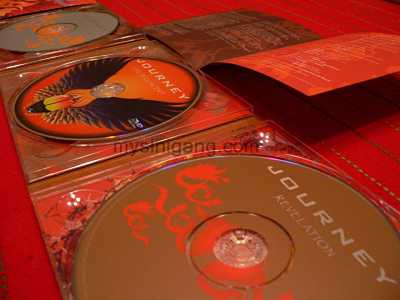 What with the Revelation album itself? I wouldn't say I was blown away on first hearing. Like wine, it has to age. As a 'new' fan, it's a matter of taste and distinction. You either love it or dislike it! You'd have to listen to it at least twice to let the music grow on you- and that's actually a good thing! It means the CD is that worth listening for without having to skip any tracks! And after having heard it, I must say that I like it!
Arnel Pineda truly deserves to be with Journey! He is the missing piece to this long aching band! Rediscovering Journey through Arnel Pineda is indeed a revelation. I can't believe how great an instrumentalist Neal Schon is, and so are Deen Castonovo, Jonathan Cain and Ross Valory!


From the first song, you'd immediately get that quintessential solid Journey sound of Deen's drums and amazing and distinct mix of keyboards, bass and guitar! A Great introduction song: "Never Walk Away." It's a memorable piece. Second track: "Like a Sunshower" almost sounds like a country song then thankfully it gets better! "Change For the Better" is a great third piece if not the best catchy, has the potential of becoming a hit!! Excellent musicality! (There is that slight "Filipino accent" showing in some of Arnel's intonations and enunciations on this song-that only a Filipino could notice- but that's just what makes this song his, and not be compared with Steve Perry!)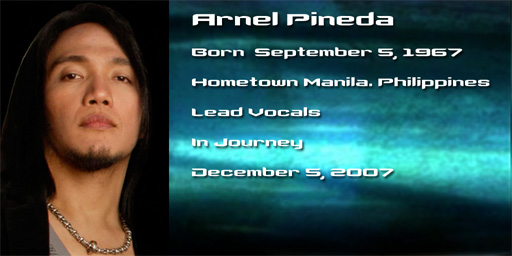 The rockin' continues with "Wildest Dream" and really Arnel's powerful voice is well blended into that wondrous Journey sound only Neal Schon's guitar, Deen's drums, Valory's bass guitar and Cain's keyboards could create! This track is probably the most rockish. The fifth song "Faith in the Heartland" is a re-recording from the "Generations" album. It was the album's lead track then so they must have included it now to gain more attention than the last time. It was just OK for me.
The sixth track is a breather from the two prior rockish sound! It is a bit cheesy but hey, it's a love song. All love songs are mushy. Arnel gets to relax in this song and actually gives a believable piece of a lover still in love with his wife after everything, "After All These Years…" It is the album's carrier single.
… this is made in a true Journey fashion. If you're only now discovering   Journey, this is one album you must have!
After that ballad, "Where Did I Lose Your Love?" is a mid-tempo track that has a making of another classic, Arnel's voice is soulful. "What I Needed" showcases Arnel's emotional side and you can really feel the vulnerability. The most touching piece in the album. Schon's solo guitar is amazing in this track! Arnel is just 'what they needed' for this song!
"What it Takes To Win" the ninth track has that right raspiness in Arnel's voice and despite the somewhat trite lyrics actually has the potential of becoming a hit too given continues airplays. It has that commercial sound, that's why.
"Turn Down the World Tonight" is perhaps the best track in the album! They should release it as their second single! The only one that stuck with me from the first time I played it and gave me goosebumps! Arnel will really wow you with this one! A song that will be played for years and years to come! The lyrics are poignant and moving. One that will really make us stop and ponder of what we're doing in our hurried lives. "…help me turn down the world tonight / take a quiet moment somewhere we can unwind / losing touch we forget to take time, to share what's in our hearts and speak what's on our minds. In the silence, hear your heartbeat next to mine, baby help me turn down the world tonight…" With lyrics like that, how can you not love Journey?!! Thank you Jonathan Cain for the lyrics of this song! Saved the best for last is true here as it is the last "vocal" song of the album.
As sort of a finale, there is an instrumental that has Neal Schon's signature pieces on it and is the title of the album, The Journey (Revelation). It could have also been great as an overture since this piece is actually being used as an opening number in their concerts like the one in Chile in February 2008 but then I guess it's also just as good of an ending for the whole listening expedition.
Overall, the album is a message album of love, keeping the faith, taking it slow and knowing what's important in one's life- this is made in a true Journey fashion. If you're only now discovering Journey (like me), this is one album you must have!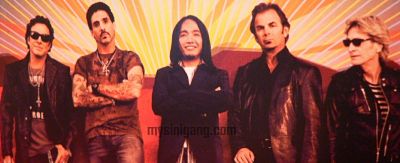 As for the freebies, I'm not really keen on them re-recording their greatest hits as part of a bonus CD. I feel they didn't really have to rub it in on Steve Perry by having his signature songs re-done by Arnel Pineda (regardless of how great Arnel is!) UNLESS they put a new twist or a new arrangement to the songs, offered something new- perhaps an acoustic version of the greatest hits but they did not. In concerts, sure Arnel is almost demanded to sing them. He has to sing them for the fans! But put it on permanent record with the same arrangement? I think was unnecessary.
The three-disc album also came with the DVD concert performed by them live in Las Vegas on March 2008. Arnel Pineda seem to have taken energy booster shots or was probably plugged in with an extended battery because he was so pumped up, excited and almost too eager in his performances. He was all over the place. He was using that stage good. Was it pure adrenaline or over doing it? It's hard to judge until I see him perform live myself. In most cases he appeared really in awe with his bandmates- like he wants to pinch himself being onstage with such legends. And that's just sweet and humbling to see as he is himself part of Journey now! When he gets over that feeling, we hope he'll remain grounded nonetheless and remember his beginnings.
One day somewhere in an unknown bar in the Philippines, some guy would be singing "After All These Years" and "Turn Down the World Tonight" and it's not A Steve Perry Journey signature but Arnel Pineda's own Journey classic! We don't know how long this "fairy tale" of his will last, but we'll be there Filipinos for the ride! As long as he's 'driving' Journey, we'll be in the back seat enjoying the view!
Band Lineup:
* Neal Schon – Guitars, Background Vocals
* Jonathan Cain – Keyboards, Background Vocals
* Ross Valory – Bass, Background Vocals
* Deen Castronovo – Drums, Background Vocals
* Arnel Pineda – Lead Vocals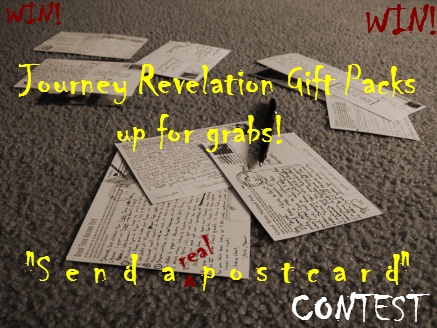 Browse Timeline