8-08-08: Are you Ready For Beijing 2008 Olympic Games?

6 Comments
July 29, 2008 – 8:23 am popping..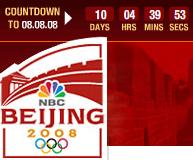 I AM!! From the countdown on the right, it's about 10 days left to the games.
Ever since I could remember following the Olympics, I've always rooted for the United States contingent. I guess I speak for most Filipinos like myself that of all the countries we could cheer other than the Philippines, we choose to support the United States.
Perhaps it stems from that long love-hate relationship with the US that spans over a hundred years. Perhaps we've always seen them as allies, we have to support them! Perhaps it is the fact that the Philippines constantly compete with other Asian countries every year for various Asian games that we just see them always as rivals! Or perhaps it really is that the United States produce THE best athletes in the world, we want to associate ourselves with winners! Yay!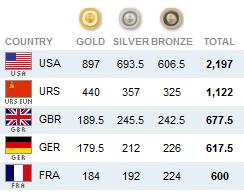 The United States Summer Olympic stats is very impressive with 2,197 medals total since 1896! Sov. Union/Unified Team comes in far second with 1,122 medals. Great Britain ranks third with 677 medals. The Philippines has a mortifying seven (7!) medals since we first joined in 1924.
Boxer champion Manny "Pacman" Pacquiao from my hometown General Santos City, will be the flag bearer of the Philippine Team at the opening Ceremony on a historic lucky day 8-08-08. No, he will not be competing. Out of the 34 different sports, the Philippines will only be competing in eight (8!) games namely: Archery, Athletics, Boxing, Swimming, Diving, Taekwondo, Shooting and Weightlifting. :-(
I'm surprised that we are not competing in Badminton since it has become highly popular in the Philippines in recent years. I would have thought we'd have produced great, competitive players in that area by now. For sure lack of formal training and monetary support (or otherwise) from the government and NGOs are key factors, same goes as to why we're only joining in 8 sporting events!!
I will be following Swimming, Gymnastics, Basketball, Diving, Rhythmic Gymnastics, Synchronized Swimming and maybe Track and Field. Yes, I will be cheering for Team Philippines very shortly and TEAM USA! The Olympics coverage in the United States is provided by NBC Television. (I went to check the Official Beijing Olympic website and it suck! All the images doesn't load and it took forever to connect and I'm using Broadband! Grrrr!!). I got more information on what's happening at the NBC website!
Are you looking forward to the Olympics? Who are you supporting and what will you be watching?
Browse Timeline