Cuil, The New Search Engine Fails To Deliver

8 Comments
August 5, 2008 – 9:04 am popping..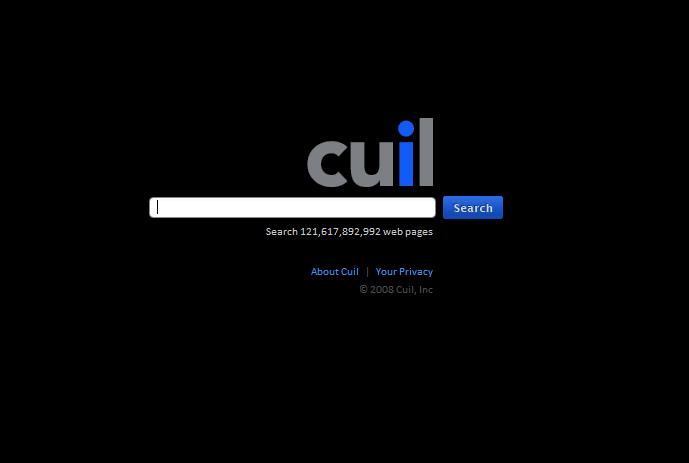 Or is it too early to pass judgment?! I decided to try out Cuil (pronounced as cool) today. After over a week since going live online, I figured it's the perfect time to check it- now that the hype has died down. I am extremely disappointed.
In case you have not heard the buzz, Cuil is a new search engine, supposedly bigger, better and more intelligent than Google search or any other search engines combined! It sounds like a really promising venture since the brains behind the site are former Google top employees and from other high profile companies. In its first 48-hours it boasted about 50 million searches from all over the world, not bad for a start-up company; Google apparently handles about 3 times more (150 million?!) searches per day.

Lifted from it's press release, the following are Cuil's key features:
* Biggest Internet search engine—Cuil has indexed 120 billion Web pages, 3x more than any other search engine
* Organized results—Cuil's magazine-style layout separates results by subject and allows further search by concept or category
* Different results—Unlike other search engines, Cuil ranks results by the content on each page, not its popularity
* Complete privacy protection—Cuil does not keep any personally identifiable information on users or their search histories
See, what it all comes down to an ordinary internet user like me is relevance! When I search for something online, a keyword or a phrase, I'd like my search engine to be able to give me results that are useful, sensible and applicable to me. Unfortunately, I did not find that at all with Cuil.
Sure, I love it's homepage. Black background against blue and grey hues- perfect! I love the widespread feel of the search results showing in a magazine style layout. I love that it has no ads on the sides or at the top portion (YET!) of the results while Google has plenty! However, does that count when you're searching? Does that count when all you want is a fast, reliable answer to your query?
Case in point. The first keyword I wanted to know was "Filipina." Concerned netizens have worked hard to clean up this keyword on Google for a long time but it looks like, the paid ads are winning again! The results were horrible and it shouts PAID AD all the way! Aaah, very clever- the reason I don't see any ads on the sides or anywhere else was because the search results itself are primarily advertisements! How else will this company survive if they don't have paid links and paid search results? This is no charity website. This is a business site out to compete with Google. But with the way they present results and if they continue with it, they have no prayer against Google or Yahoo or any of the low-ranking search engines like Ask.com or Dogpile.com.
(Please click on photo to view larger)
The results I got for the keyword "Filipina" were more disconcerting than Google's although Google's is pretty bad too! Except for one or two, all the rest had Filipina penpals, nude Filipina amateurs, Filipina brides and dating. It gets worse: Filipina live videos, Filipina sex partners, Filipinas sex clips and it goes on… Mortifying!
I moved on to check "Philippines" which has more decent results thankfully but not really much information there! The "easy dropdown" recommendations are very limited if at all useful! Then I moved on to check my own website: mysinigang.com. To my dismay, what it showed made no sense at all!! They make up links as they go along it seems, just so the page would appear like it had results!! Clicking on the given links that has supposedly mysinigang.com on it shows nothing at all, it's bloodcurdling! Cuil found 7 links total in one page to mysinigang.com with only 4 of it relevant. Google has over 600 links found when you search mysinigang.com in about 10 pages!!
I checked my other site as my last test: thepostcardcollector.us. Wow, it found 61 results spread in 3 pages but wait! more than half of it are not mine and most are just garbled, incoherent BS!! Where did they find this crap?! Waaahh!! I give up!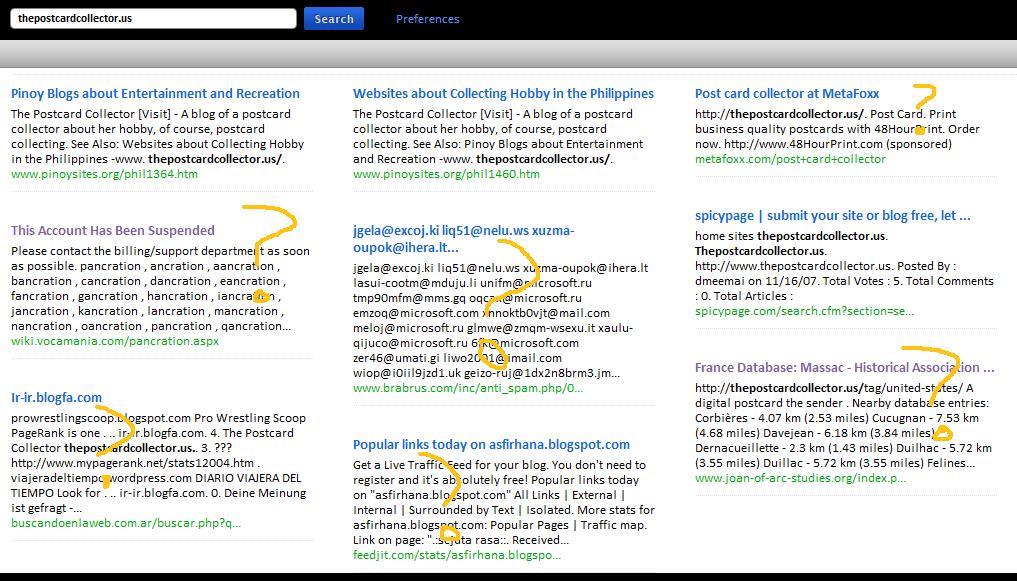 Give Cuil a try and find out for yourself how awfully bad this new search engine is! Share your finds with me too! I wish they don't make huge promises they can't keep. Unfortunately, much as I hate the Google monopoly on the internet, they are still the undisputed "king of search" and perhaps THE best search engine there is!
Cuil is an old Irish word meaning knowledge. "For knowledge, ask Cuil." So goes their slogan. I say: "For knowledge, seek somewhere else!!!"
Browse Timeline