Scour Search Engine Blows Away Cuil and Others, Watch Out Google!!

9 Comments
August 23, 2008 – 7:46 am popping..
Hi. My name is Mae (Hi, Mae!) and I'm a Search Addict! The 12-step program does not apply in this case because I don't want to recover from it. :-)
I'm most fascinated with Google specifically as a search engine- its seemingly limitless power over the internet and how they came to be. Google has 100 and so products available and some of their notable services include: Gmail, Google Checkout, Picasa, YouTube, Google Gears, Blogger, Search, Adsense, Adwords, Apps, Docs, Gadgets, Lively, Knol, Orkut, Reader, Alerts, Base, Analytics, Goog-411, Friend Connect, Jaiku, Feedburner, iGoogle, and Google earth. The average internet user probably avail of at least 5 Google products! I use 11! How many Yahoo! do you use? I use 3!
In such a short time, they have become a global phenomenon that anyone who has access to the internet knows what or who Google is. In time, it will equate or even surpass iconic names like Coke (Coca-cola) and Kodak- the two being the most famous brand names in the world. Even in the most remote areas, in the outskirts of Asia to the borders of South Africa- people know Coca-Cola (Koka Kona)!
This fascination often leads to frustration as I become more and more dependent to this demi-god. They continuously dominate search and come as the number one search provider in the US commanding 62% share of the pie, according to the latest 2008 Neilsen Online Report. Yahoo comes in second with only 17.5%. Huge, huge difference!

Earn cash!
Before you scream, "not another search engine?!" Scour, the months old search engine is really something that you must take notice and even capitalize on just because it offers something NO OTHER search engine does- REWARD its readers! It sounds banal I know but that's just the best way to put it, you earn points every time you use Scour.
After garnering enough points for doing what you already do daily, Scour will send you a VISA Gift card anywhere you are in the world!
Search + Points= CASH Gift Card. No brainer.
I'm immediately sold because I'm such a heavy search user! What did I tell you? I'm a search addict! I use search more than I blog or more than I use my email or anything else online. I use Google for it but I just now shifted to Scour as my default search engine.
Search More Efficiently and Intelligently!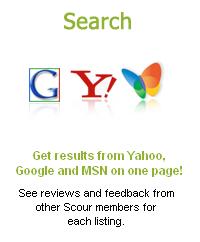 This search engine is really top notch unlike Cuil who failed to deliver after promising so many thing to its users and boasting that they have more database than anybody else including Google. Well, it goes to show, sometimes more is not necessarily better because the quality of Cuil's search results are horrible! Never mind that Scour feels and acts like Google, it is a search engine foremost after all. So they're a little low on creativity but does that count overall? I think not.
Scour USES the influential BIG THREE of search: Google, Yahoo and MSN and puts it in one place for you.  The search results from the big 3 combined in one page, that's wickedly outrageous!! How many times have you been dissatified sometimes with the search results from Google that you have to try searching the same keywords in Yahoo or MSN?! I know I have tried this method a lot. Even though I rely on Google for most, I still go to Yahoo and MSN just to see what kind of results they would give me for certain keywords.
You have to realize how great this feature on Scour is!! I would have used it anyway even without the rewards because it just made my search life a whole lot smarter and easier! I don't have to go to Google, Yahoo or MSN anymore. I only need to type in the keywords on my Scour toolbar and I get the results I want from the big three!!
Get the Results You Want!
Relevancy has always been a big challenge for search engines. What to display when a user types one thing. Say for example I type in a very vague and broad word: Filipina (my fave keyword!). What the big 3 would initially do is say (yeah, the robots can talk in my mind), "hmmm not so specific enough- let's give her the results that we got paid more!"
What do they do? They show you: Filipina mail order bride, Filipina for Marriage, Filipina Bar Girls, Hot Filipinas, Filipina dating and single, Filipina live on cam, Filipina for Sex and other garbage they show in the results.
See, I wasn't even specifically typing Filipina dating or Filipina single yet it is the first one that shows up on my search for the word "Filipina!" That is definitely NOT relevant to me and to the rest of the world. Unless one searches for Filipina sex- why would it show up when you're only searching for Filipina? That's BS. Such is paid links.
Think about a grade-schooler searching for what a Filipina is for her assignment. She goes to Google and types in: "Filipina." Search results give her Filipina brides, dating and personals, etc. Even worse, when you type in "what is Filipina?" it gives the same disheartening results!!
Sorry, where was I? I get carried away when the topic is search because the search results for the keyword Filipina are really displeasing and have always been that way. No matter how much we try to campaign for it, the paid search always win. :-(
Relevancy! On top of the rewards and getting the 3 searches in one, it is also a social community which when its members do not abuse the system, could really have very beneficial results for everybody using the search. Yes, with Scour at least slowly, we can have a little say as to what kind of search results we want to see as more and more people rate the particular result.
For every keyword searched, the result comes up with thumbs up or thumbs down buttons. If you find the result relevant and useful, give a positive vote, if not vote it down. The more users vote a particular result the higher or the lower it will be in the overall ranking! The best part is you can comment on that search result, further helping users decide if that's the site they want or not.
Conclusion
Scour search engine is a win-win for the end-users! How rare is it to find a website that actually gives a part of its accrued "wealth" to its users?! The community is not only rewarded for using it, more importantly, the community can get better if not the best results possible in search because everyone helped in cleaning up the keywords for relevancy and importance.
Scour Search Engine blows away Cuil and others by a long shot! Google may just have found a worthy contender in the game of search. Watch out Google!  I give this website a big THUMBS UP!
Check it out and explore the many great features. Let me know if it works for you as much as it's working great for me!
Browse Timeline