Friendster Blog Now Using WordPress' Platform! Great News BUT Lousy Transition, Gives No Warning!!

12 Comments
September 3, 2008 – 8:26 am popping..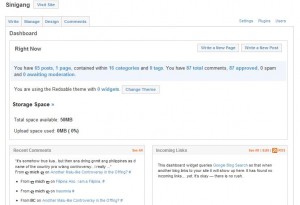 Note: To all Friendster users who are not Wordpress Bloggers and are confused with how to use the new blogging platform, email me with your questions via Contact (on the top right of this page) or leave a comment- perhaps I can help! You can ask me anything at all regarding how to use Wordpress blog in Friendster! Hear from you soon! :-)
– 0 –
I couldn't believe it! I just got finished writing my newest post on my Friendster blog, updating this and that on my profile and then came the biggest surprise!
SUDDENLY, without any warning or any sign at all- my Friendster blog magically transformed into a new website!! A Wordpress website!!
CRAP, all my sidebar except for the comments and recent entries- gone!! I just updated my blogroll, added new links- it's all gone!! All the HTML codes and whatever else on my sidebar- gone!!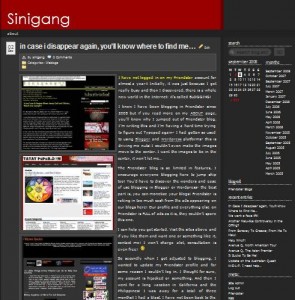 How can Friendster do this without alerting its users?? I immediately Googled for news, anything that says about the "merger." Nada. Zilch. I looked at their Help section, it still covers Typepad blog stuff. I went to Wordpress.com/.org- still nothing there. Is this just experimental? Am I dreaming all this? If I wake up tomorrow, will it return to its old format?!
I really should be happy with this huge move by Friendster. Here I was ranting about Friendster's lame platform for a long time- the very reason why I moved to Blogger and eventually Wordpress because of its makeup and now, like going full circle, I may decide to actually maintain the friendster site just because it is now using Wordpress.

I haven't opened my Friendster profile in almost a year!! In part because I was having problems logging in. Then I got busy with life and for the most part, I got busy blogging in Blogger and Wordpress!! Then, today- this hour- I was finally able to log into my account. I am not even done updating everything yet and they changed the entire platform without freaking telling us ahead!!!
THIS IS HUGE. Could it mean that we could finally place advertisements, Google adsense, etc. to our Friendster blog? It has widgets, WP-admin, dashboard and plugins, everything wordpress is there- except being able to tweak the theme design!! Still, the possibilities are exciting!!
I have not explored all the features yet, or as to how far we can go tweaking the dang thing but so far, it looks like you could place whatever it is you want to place like Blogger only better because it is WORDPRESS!! Get it? Wordpress.com doesn't let you place ads on your blog if it's hosted by them- only when you host your site yourself can you have limitless freedom to the site. Blogger lets you do whatever you want with your Blogger site but then its features are still limited compared with Wordpress. Here with Friendster blog you have the power of Blogger and Wordpress combined!!
I'm happy yet angry at Friendster for this lousy transition. I'm still pretty shocked on the implications so we'll see. For now, I gotta go!! I have to play with my Friendster blog some more, change my theme, add widgets!! I don't even know where to begin! Geez! Maybe you'll see me there often now- I don't know, it's crazy!
UPDATE: Dream on, dream on… Of course, it doesn't allow Google adsense!! It was wishful thinking on my part that Friendster would actually allow us to place Google adsense on our site! The good news is Friendster doesn't seem to be adding THEIR own Google adsense on the blog either. At least they're NOT trying to make money off us anymore with our own writings!!
It doesn't seem to allow script/javascript. Adsense uses such but so does Entrecard! HTML is fine. You can place that. I tried adding Project Wonderful ad just copied and pasted from this site. It seem to accept it. I won't know for sure and I don't think I want to add it on that site anyway…
OK, will someone from the Philippines let me know if you have the Wordpress feature? I'm not seeing any changes at all with other sites!! WHY?!
THIS IS FREAKY: I found out that I now have two URLS for my Friendster blog. The first has MY OLD original theme and everything else that is in the Typepad format and the new one I'm talking about with Wordpress on it! There seems to be no way to edit or access the OLD original blog but perhaps Friendster decided to keep it? I'm more confused now than I ever was a few hours ago!! Is someone on the same boat as I am?
Will keep you posted for more.
Please let me know if you find other features available or not avialable with Friendster Wordpress. Thanks! :-)
Browse Timeline