Part II: State of the Blog Address (SOBA), Money Isn't Everything

5 Comments
September 29, 2008 – 7:35 am popping..
– 0 –
Sixth Step: Paying attention to site statistics
I wasn't. I only started doing it concurrently upon joining Entrecard sometime in June 2008. I wasn't even checking my Adsense account until recently! A mistake on my part and one which newbies should take into consideration when blogging. You should pay attention to your statistics! They can give you important points as to what your visitors are reading, what they're searching, how they got to your site and where they come from. It is very interesting. Though different sites give varying tracking information and results, it is more or less consistent and close to each other. Google analytics, e-referrer.com, histats.com, feedburner.com, feedjit.com are all great tools and must haves to study your stats.
I just installed e-referrer stats on July 27and it already tracked 3,961 visits. 1,674 of that came from Google searches! At the same time I installed flagcounter that shows 2200 US visits since July 27. I didn't even realize I get an average of 100-150 visits a day according to the trackers. I would have been happy with 10 visits a day! Topblogs.com tracking Philippine sites says I've had close to 11,000 page views since June 15- the day I joined! I have a PageRank of 2 and my feedburner says I have 40-50 readers on average.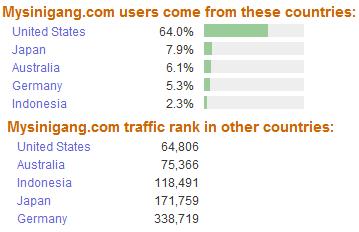 Alexa ranking is wonderful as well, when I checked my site a while back it was in the 1 million ranking. I saw it shrink in number since then! Right now it says, I'm ranked at 188,988!! 230,000! According to Alexa, 64% of my users come from the US. Makes sense since I'm in the US, what I couldn't believe is that the Philippines isn't on my TOP 5 users!! How did that happen? I've always thought most of my readers come from the Philippines. Here I am wrong again.
I mentioned about the "Sinigang" keyword and how I appear on that search. That's not even the BEST part when I reiterate how important content is. By paying attention to my site stats I was able to see that majority of my traffic wasn't coming from other bloggers or all these networking sites at all! Except for entrecard which comes second in my referrer list, I get the most traffic from Google, Yahoo and MSN searches! How cool is that?! Because search engines find most of my "quality" content relevant and useful, I appear in various keyword searches when it calls for it. It means someone looking for Arnel Pineda or Kapatagan, Camp Sabros or Julia Roberts or Lea Salonga or Broadway or even Pinay Scandal and Sexy Filipina and Filipina images arrives to the site from Google! I love the latter part! I can imagine someone typing Pinay porn and end up disappointed finding this is not a porn site! It is the only SEO related content I did to help an initiative to reshape the Filipina Image on the internet! I wrote the article over a year ago I think and people are still finding it by Googling somehow. More people should write decent articles about the keywords Filipina, Filipina images, Pinay, etc. to level the playing field.
Another great thing I discover is that people actually stay on the site an average of 3 to 5 minutes and get 4 to 6 page views a visit. This is something every blogger should think about. Getting traffic is one thing but getting people to stay at your site for even one minute is a huge task. You must have heard of bounce rate. Wiki explains: "It essentially represents the average percentage of initial visitors to a site who "bounce" away to a different site, rather than continue on to other pages within the same site. If your bounce rate is high, then you need to do something about it. It means that your readers are NOT really visiting your site but was just there long enough for your site to load, skimmed through your headline and moved on to the next site.

Entrecard (EC) comes to mind. This is the downside of this powerful and effective advertising exchange network for bloggers. In my desire to drop the maximum 300 cards to 300 websites daily, I was doing the same. As soon as the page loaded, found the Entrecard widget- dropped my card and moved on- sometimes not even noticing the blog name or who or what site it was I just visited. I was "bouncing" every 5 seconds from one blog to the next. I felt awful. It didn't feel right. I stopped doing that at once and only visit a few now to which I actually stay and read some of its articles! But how many people are still bouncing to earn EC credits? You can't stop them from doing that. That's why you need some quality content to have actual readers coming into your site who are not necessarily bloggers to balance off your bounce rate. I must say that you should have at least more articles directed for general public rather than purely blogging related posts targeted at bloggers.
I have a funny feeling that some bloggers are not really readers. Most bloggers would visit your site and attempt to read ONLY your latest article. They rarely check out past or old articles. They're busy people and they don't have the time to explore our website. They have lots of SEO to do and only have little time left to care about their own sites foremost while balancing offline life. Where does that leave us? If you maintain a personal blog, you have to go after the non-bloggers to read your stuff. You know they're coming when your inner pages are being read coming from search engines using keywords to land on your articles. You know they're coming when your older popular pages have page ranks in them different from your homepage. Make that a goal: to have a page rank in some of your inner pages. You could have a PR of 4 in your homepage or landing page but if the rest of your inner pages have no rankng in them, it still means you are not getting enough reads or page views.
My tracking stats is an open book, find it on my sidebar to further see the numbers.
Bonus: Monetizing the blog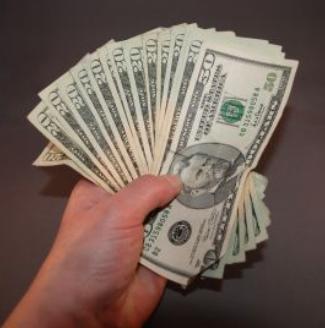 I found out along the way that people are making money blogging, in fact majority of blogs are geared towards making money online. Note that I did NOT add this to the steps in blogging because I don't think as a personal blogger that this should be part of our goal. It is an added bonus to our site that we could earn something from what we're doing but to focus on just making money online without putting any effort to our posts is not the ideal path to go. Money isn't everything. Either change your niche into something else but don't go talking about Botox or dishwashers when your site is postcard collecting for example (my other blog).
There's nothing wrong with Pay per post blogs, I found some great ones that are successful in mixing both paid and personal articles. However, some bloggers put in article after article that are nothing but paid advertisements with paid text links cloaked in some made up personal story to make it appear that the product is actually helpful or necessary when the product or service isn't even available to the blogger's location. How do you build credibility when you start recommending Circuit City or Best Buy to your readers when you're blogging in the Philippines or Australia? Except visiting their websites, you've never been to any of its physical stores, you've never received any shipments from them because they don't ship internationally, you can't be telling me why I should shop at these stores. You can't tell me about heating systems either or snow removal tools because it is non-existent in the Philippines!
It's all about choosing the products or services to review that can blend in well with your blog. Don't go grabbing every imaginable ads because most readers would frown on a personal site that has PAID written all over it. In the end, what you have is a personal paid blog with no relevant content and value to your readers. You're earning sure but you're writing for the companies who pay you to blog. I say, balance it out. You can't cover every paid ad especially the ones that are totally unrelated or sticking out like a sore thumb in your site. I also can't stress enough the importance of disclosure. Personal bloggers should be transparent to their readers. Aside from a disclosure page it would add more credibility to your site to note  that you're writing a paid post, either at the top or bottom of that page.
I studied at my options. One thing I didn't explore in at was completely monetizing my site with all kinds of PAY PER POST memberships. It works for most bloggers, just NOT for me. Again, great to earn on the side but personally, not to the point where my writings are going to be dictated by some company and be paid to "lie" for saying this such product is great when I have not tried it(!) or worse that I actually tried it and it sucked but I couldn't say it because the company won't accept and pay for a negative review! I would only like to have third party ads on my site. They're unobtrusive and just there for readers to click or not, ignore or not. I don't have to render false or unreal opinion about what the ads offer. I joined affiliate networking sites. These are sites where you get either points or money referring others via ads and links. I also added Google Adsense. It seem to make sense so I applied hoping to get cents that would later translate to actual money! After a year of blogging, I'm happy to say that I got my first payment from Google for $113.60! Yet, I have a renewal bill for my hosting and domain, etc for $200.00!! I'm still short! LOL
This ends my State of the blog address! What are you waiting for? Go start that blog you've been putting off already! Until next year…
Browse Timeline