10th Photohunt Theme 132: "Family"

12 Comments
October 18, 2008 – 8:01 am popping..
Family [fam-uh-lee, fam-lee]: noun the smallest unit in a society. no longer defined by blood in recent times, but metaphorically blood related by mere sense of belongingness and acceptance; sharing common goals, attitudes, and interests, living together or not. By that definition, I am a member of many families but for this theme, I'm sharing my own family, not by choice but related and bounded by genetics. :-)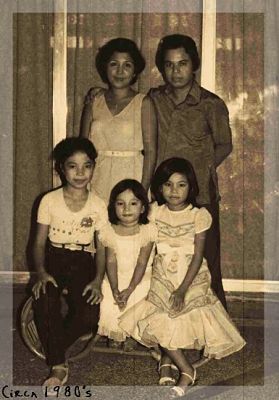 Yay, back in the days when…
my eldest sis will most likely not talk to me for posting this!! I mean c'mon, high waist jeans in tight belt?!! I'm not too happy in this pic either (far right)- being forced to pose and wear a stupid chiffon dress in fuchsia color at that!

Find more photo hunters at PhotoHunt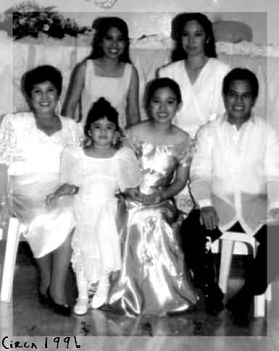 I feel sad whenever I look at this photo. This is the first and last decent photo of my family together in one occasion and my only copy is a lousy 4×6 size photograph. Our youngest Inah, was 6. She is now almost 18 years old… :-( We sort of have lived apart many times in our lives back then, going back and forth from General Santos City, Davao City and Manila, but just within the Philippines.
Yet since 2000, it has gotten worse! In our desire to better each of our lives, we are now spread out across continents! My mom and youngest, in California. My second sister whom I have not seen in 8 years lives in United Kingdom!! Me in Massachusetts. Of recent, my dad, my eldest sis and her family are now living in Australia. My best friend is left in the Philippines.  :-(
The yearning of seeing each other physically is always there. I still cry myself to sleep sometimes… Nevertheless, my family together or not, strive to connect no matter what and we have never been closer! It could get expensive- exchanging care packages, sending text messages, calling long distance when skype's not available!, sending email and postal letters, we manage somehow. We get by- making the years seem like months and the weeks just days…
Our next hope of a reunion is on 2012 for the London Summer Olympics! Our sis in the UK is hosting! That is still four years away, I will probably see either of my family or all of them within the next four years but on separate occasions- never in one place… It may very well take another four years or so before we get to be in one place again- but I am so excited; today, I begin my countdown to the London olympics!
Browse Timeline