Meet 'Dr. Survivor Philippines' aka Dr. Zoe, Resident Doctor of Tarutao Island (Part I)

6 Comments
November 23, 2008 – 9:07 am popping..
Continued from page 1…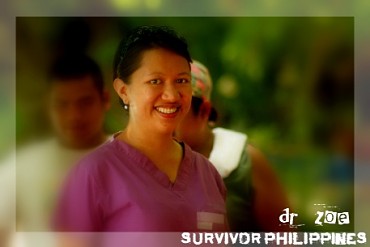 Accommodation
M: How totally different was it being in the jungle with a tent as your clinic versus being in the hospital with a nice working environment and staff?
Dr. Z: It was like a 180 degree turn of events! In a hospital, I see patients and call for the necessary lab exams, admit if need be, and assist or perform surgeries. All of these are within my reach. All of these entail very long hours.
On the other hand, for Survivor, my patients are not just the individual members of the production team, but the production team as a whole! Moreover, part of the challenge of a wilderness set-up is that my situation is compromised – I don't have all the sophisticated equipment I need unlike when inside a tertiary hospital.
Some of the other things I do are risk assessment, identify hazards, check challenges with the challenge team if they are safe and do-able. Part of my everyday challenge is to make them safe and healthy, considering that the nearest hospital is some 25 minutes away by speed boat. Those are not the usual things I do in a hospital.
M: Did you have electricity at night? Where do you sleep? Are you on call 24/7?
Dr. Z: We have it a little easier than the castaways in terms of living conditions. We live in a national park, so our accommodations are on separate cottages. We have electricity and wi-fi, but the electricity part – that can be tricky.
Yes, the medical team is on call 24/7. We also have proper coordination with the Thai doctors in Langu.
Animal Residents in the Island
M: Other than the ones we've seen or might be seeing on future episodes for the contestants, did any of the production crew suffer any kind of incident? a camera-man stung by a jellyfish perhaps or a rescue member bitten by a scorpion or snake? What kind of animals were you dealing with day in and day out?
Dr. Z: Yes. I have a number of marine animal stings from the staff. Some of them were even conducted immediately to Langu Hospital. We deal with a lot of animals there as it is home to a diverse number of animals – different species of birds, some of them predatory; wild boar; different varieties of monkey; squirrels; snakes; scorpions, which the Naak tribe encountered also; marine life such as hermit crabs, manta rays, sea snakes, fishes, dolphins, jelly fishes, crocodiles, and sharks.
Fortunately, there were no crocodile and shark attacks. I have blogged about this in the official website. ("The Perils of Devil's Island.") ©
– 0 –
There you have it for the first part of the interview! Come back in a few as Dr. Zoe will share a bit more about her adventures with Survivor Philippines. Meanwhile, check out her blog entries in the Official website (Yes, she is a talented writer as well! Told you she was kick-arse!) if you haven't done so yet! The Official website is just teeming with information, castaway photos and recaps. You can find Paolo Bediones blogging there too! See you soon!
UPDATED: Part two is posted here…
Pages: 1 2
Browse Timeline