Discovering Self-Portraits Internet Style; Every day Photo: Your Life in Fast Forward

3 Comments
December 8, 2008 – 9:04 pm popping..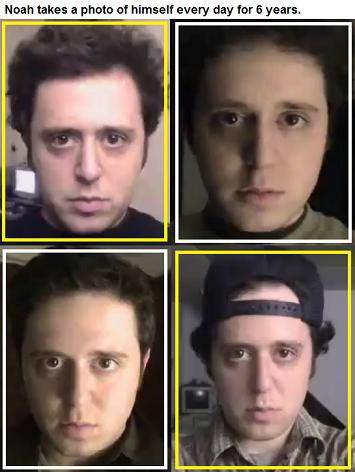 I was in my usual site hopping when I discovered something profound and it hit me with some unexplainable emotions. Was it his emotionless stare? Was it the sadness in his eyes? the stoic look? Was it the music? the simplicity of it yet the obvious labor the project commands? the unceasing dedication? its symbolism? the meaning of life? Perhaps it's all of the above or that it just caught me in my softer moments, whatever it was- it made me feel something.
Noah Kalina was 19 years old when he started on an ongoing project, a personal idea of photographing himself daily. He began in January of 2000. His photo project took a remarkable turn in August 2006 after seeing a similar work done by a graphics designer and experimental filmmaker named Ahree Lee. She has been taking pictures of herself every day for 3 straight years when she put it up in a video- short film format. This inspired Noah to create his own by putting together all his photos into a time-lapse, life-in-a-flash video and put it on you guessed it- YouTube! In a matter of weeks, the video called "Everyday" became a worldwide internet sensation.
From August 28, 2006 when he first placed his clip on YouTube and Vimeo, his life was never the same and he became sort of instant celebrity with the media (print, TV, radio and internet) wanting a piece of him. His clip appeared on TV shows all over the world. The New York Times and Washington Post did a story on him. The Simpsons did a parody! He even had a photo session with Hollywood celebrities like Paris hilton, Fergie and Will.I.am and Hayden Panettiere. He is still getting press news to this day. And get this: as of this writing, his YouTube video has had over 11 million views and counting!! That's excluding Vimeo views!
Isn't it far-out that over 11 million people have already seen and heard of him and this is my first encounter of him and his great big idea? Have you heard of him before today?
On his website, he calls his first video release a work in progress, dating January 11th, 2000 to July 31st, 2006. He affirms that he will take his photo daily- today, tomorrow and until the day he dies and plans on releasing his next video on the 10th anniversary of the project. A new video every 5 years thereafter is on his plan until the "final conclusion."
Watch this 'trance-inducing' video of him and tell me if this does not move you… To fully appreciate the video, please turn on your sound.
The powerful and gripping music is an original work by his former girlfriend, Carly Comando. Thanks to the video, her popularity has grown as well and her music noticed. The music can be downloaded in iTunes, Rhapsody and elsewhere.
Now 27 year-old Noah is a New York professional photographer. His website shows his amazing work porfolio and you can find it at noahkalina.com, interiors.noahkalina.com, Flickr and you can also follow his daily self portraits at the site.
Pages: 1 2
Browse Timeline