Discovering Self-Portraits Internet Style; Every day Photo: Your Life in Fast Forward

3 Comments
December 8, 2008 – 9:04 pm popping..
Continued from page 1…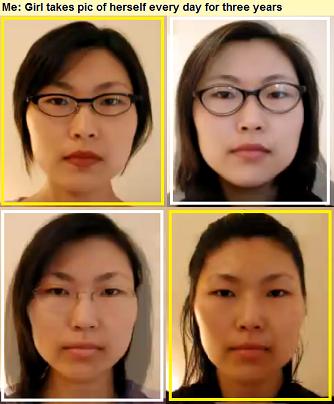 This is Ahree Lee's special work entitled "Me" which I also liked very much. Her life. Her 3 years existence can be summarized in a little over a minute. Noah's was in (almost) six minutes.
What an overwhelming feeling seeing your life flash before your eyes in a fleeting moment! Reminds us that time is slipping us by.
According to the site, "Me was screened at a number of festivals in 2003 and 2004, including L.A. Shorts Fest, the Silver Lake Film Festival in Los Angeles, and Film Fest New Haven, where it won audience and jury awards."
Ahree Lee is based in San Francisco. Her works have been screened at festivals in North America and Europe. Lee is a Yale graduate with a Masters from Yale School of Art.
I have to note the music used in this video as well. An original from Nathan Melsted. Her total YouTube views since August 2006? Over 5 million! We don't have a number for views in other sources but it's probably close.
This post wouldn't be complete without showing you perhaps the original brains behind this phenomenon to whom Noah also noted. Jonathan Keller, another New Yorker- an artist and professional photographer, started his daily self photo as early as 1998. He has the most impressive modern digital artworks I've seen. Check out his website! Keller makes mention of another fellow also doing his own daily photo project. Skip Hursh. If you know of any others seriously doing it, feel free to link here.

Living My Life Faster – 8 years of JK's Daily Photo Project from c71123 on Vimeo.
Ok, not everyone is all raving about this project of course. You'll see all the crazies commenting on the YouTube videos of Noah, Jonathan and Ahree Lee and all the others who have started their own little project. They just don't get it. You can't please everyone. I don't think it is narcissistic or a waste of time- strange maybe. Yet in an esoteric way, the videos moved me and I'm pretty sure somewhere in the millions of viewers- many were touched by it. Something just remains long after you have seen it and you don't mind watching it a few more times.
I've been thinking about it. In spite of how much emotion it made me feel, I don't really think I could do it long term without missing or skipping. The most I could would probably be a month and if I missed one, I'd get so frustrated and angry at myself that I'll throw the entire series. So I won't allow that self-torture.
Are you inspired to do it? Do you think you can commit yourself to photographing yourself, every morning sleepy beads and all for days, weeks and years to come not forgetting, not skipping a single day? You could take it differently too. Ms. Lee talks about a film "Smoke" which I have yet to see. She explains, "Harvey Keitel's character, Auggie, takes a photo of the same street corner outside his shop every day. I won't ruin it by describing it more — just watch the film!" So you see, it could be any subject depending on what's inspiring for you. A self-portrait is more impacting nonetheless.
I salute those who would and could do it. It's never too late to start. This is an open project as long as you know to give credit where its due to the people who started it all- Jonathan Keller, Ahree Lee and Noah Kalina. Let me know if you're starting one. I'd love to know! To inspire you even more, I leave you with Homer Simpson's very own dramatic and moving "Every day"…

Homer Every Day from Noah K. on Vimeo.
Pages: 1 2
Browse Timeline