A True Cheer Me Up: Merry Mix Holiday Carols from Gap

No Comments
December 24, 2008 – 7:26 am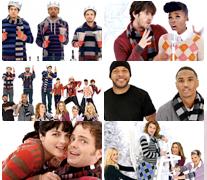 I have been feeling the Winter blues for the past two weeks. When you're thousands of miles away from family and relatives, you can't help it. Everything seems forced- a smile, the energy to go out in the cold, greeting people- it's hard when deep down, you wished you were somewhere else…
It didn't help that Boston had it's first annual snowstorm last weekend where it snowed for three days! Probably a total of 18 inches of snow after it was over. It is going to be a White Christmas as promised as it has been every year in the east coast. I had a little fun in the snow which was good and I found some more cheering up while I was shopping online at Gap.com.
I've loved the Gap store ever since I can remember and its sister companies: Old Navy, Banana Republic and its latest addition Piperlime- its online specialty shoe and bag shop. I could visit these stores every week even just to window shop (in this case, I don't always leave empty handed- can't resist the SALE SECTION!) I would endorse it happily for free any chance I get! :-)
They always come up with the most trendy TV commercials and print ads and Gap has ventured into Music Videos of late. Here's this year's Holiday carols with an all-star cast from Selma Blair, Rainn Wilson, Freddy Rodriguez, Romano Malco, Jason Biggs, Jon Heder, Janelle Monae, Flo Rida, Trey Songs and Sandra Barnhard to The Dixie Chicks. They are all wearing the Gap clothing of course!
Please click more to view the videos. I'm sorry to note that the videos auto play. Please adjust your sound volume appropriately. Thanks!

Browse Timeline