Ellen DeGeneres Wants Fil-Ams Rin on the Rox on her Show!

3 Comments
January 27, 2009 – 4:10 am popping..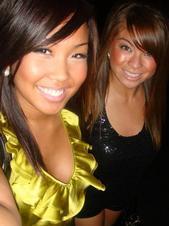 Best friends Erin Paula Perey and Roxanne Ilano unsigned Filipino-American singers from California may just get their biggest breaks soon! And again we have Ellen DeGeneres' staff to thank for for spotting the duo on YouTube! After being featured in a short video clip on the Ellen DeGeneres show a few days ago, Ellen openly invited the two on national TV calling out: "they're fantastic, if you're watching right now please please come on the show!"
Known in the cyberspace as "Rin on the Rox" in YouTube's "hiphoprox" channel, Rin and Rox have an uncanny way of presenting themselves to its subscribers- by singing inside the bathroom usually with what looks like a roll of toilet paper or a towel as their back draft! That right there tells you that they have a sense of humor and they are funny when they want to be! They seem uber friendly, easygoing, and very spontaneous. No pretenses and may even appear goofy and self-effacing at times, the latter a more obvious show of "Filipino-ness."

They've only started uploading their bathroom videos some seven months ago but in that short time have accumulated over 75 thousand subscribers and over 1.6 million channel views! Their most popular video "If I were a boy" a Beyonce original already received over 2 million hits and is expected to rise as more and more people are searching for them after the Ellen DeGeneres shoutout. They are also featured on MySpace Music though with much lesser success than the reigning MySpace sensation Colbie Caillat whose career ultimately took off from MySpace. Nothing quite like a YouTube exposure in some cases.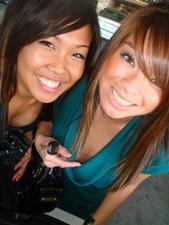 Yes, Ellen and YouTube seem to be an instant success combination for hopeful artists trying to make it! Charice Pempengco officially garnered worldwide recognition after appearing first on the Ellen DeGeneres show and then on the Oprah Winfrey show. Arnel Pineda, though initially discovered by Neal Schon on YouTube eventually appeared on the Ellen and Oprah shows as the new band member for Journey. Arnel, of course thereafter has conquered the world.
I'm excited for these two 20 year olds! Sometimes, it isn't all about being the next American Idol- whatever decent way and form that would bring you success in your musical career, you must take it. For some of our Filipino talents, YouTube is the best way to get noticed.
And now the famous YouTube video featuring Rin on the Rox' own version of "If I were a Boy." As Erin and Roxanne would say it on their videos: "… hope you guys like it, love it, hate it, whatever… just enjoy it!"
Browse Timeline