Rin on the Rox Gets Invited to the Grammys, Thanks to Ellen DeGeneres!

No Comments
February 3, 2009 – 10:26 pm popping..
This year's 51st Grammy Awards Night is 5 days away (February 8), to be held at Staples Center in Los Angeles, California. Who gets to go to the Grammys on short notice like that? If you're Ellen DeGeneres or a Hollywood star, you can pretty much pull strings! The Grammy Academy Awards night tickets is pre-sold to its members only on first-come-first served basis every December before the next show and seats are limited. The price is undisclosed as it varies year to year.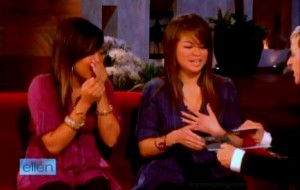 Talk about great timing for the princesses of YouTube to pay Ellen DeGeneres a visit! Rin on the Rox, that would be Erin Paula Perey and Roxanne Ilano, made their first ever television appearance on Tuesday, February 3 on the highly-popular, syndicated worldwide- Ellen DeGeneres Show. As a thank you, Ellen handed them a pair of tickets to see the Grammys where huge popular music stars attend every year! Confirmed performers Rin and Roxanne will witness are:  Neyo, Rihanna, Radiohead, Jennifer Hudson, Katy Perry, Chris Brown, T.I., Carrie Underwood, Justin Timberlake, Estelle, Kanye West, Jay-Z, Paul McCartney and U2!! The Oscars of music and Rin on the Rox are going to see it! Ellen so casually reminded them to bring a camera for this big event that you and I won't probably ever get to see live in our lifetime! Of course, they MUST bring a camera!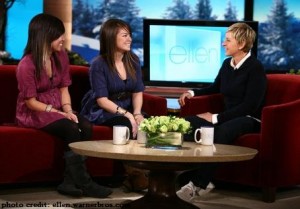 The whole interview went quite well. Rin and Rox appeared happy and smiley the whole time and if they were nervous, it sure wasn't showing- except on some parts when they sang in the bathroom. I actually thought their YouTube version of the song "Miss Independent" by Neyo was better than when they sang it live inside Ellen's studio bathroom. Hmmm…
What was cute was Ellen had the whole bathroom theme going thru the entire show calling it  "The Ellen DeGeneres Bathroom Concert Series." Guests like Oscar nominated Josh Brolin (Supporting role, Milk), Pink and Butch Walker were introduced in the bathroom! Pink and Ellen had a great time singing "So What?!" inside the bathroom!
I rarely watch Ellen but hers is always a better show to watch than Oprah's, if you want a relaxed, entertaining and lively show- little or none of those sob stories. We have enough problems to deal with in our little lives, we don't need to hear other people's miseries… This was a fun episode! Ellen DeGeneres is always witty and comedic in her Ellen-ness. Her dance moves are classic and effecting. Rin on the Rox, giddy and composed all at once survived their first TV appearance with sophistication and charm. We sure hope this won't be their last! Calling Oprah Winfrey! Did you get the memo yet, Oprah? :-)
Congratulations ladies! Update us on how surreal it would be to be at the Grammys! Will they let you walk on the red carpet? Who did you rub elbows with?! Rush your website up and kicking, your thousands of fans can't wait to hear more from the both of you!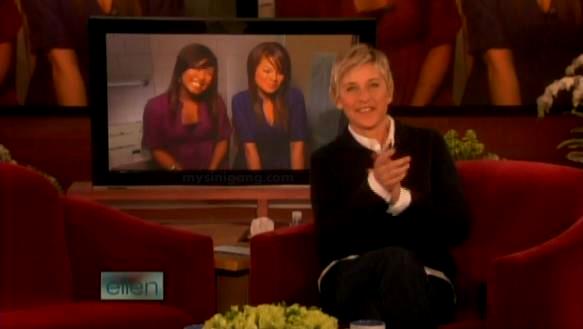 Pages: 1 2
Browse Timeline