Rin on the Rox Walks on the Red Carpet, Attends the Grammys!

3 Comments
February 10, 2009 – 1:14 am popping..
Since I have started writing about these two YouTube superstars, might as well continue doing so. Have to feed my own curiosity, just as I know most fans around the globe are left wanting for more news and update about them. Rin on the Rox attended the 51st Annual Grammy Awards held at the Staples Center in Los Angeles, California on Sunday, February 8, rubbing elbows with music superstars while the rest of us have to watch the grueling three and a half hours show on TV with commercials. Ha!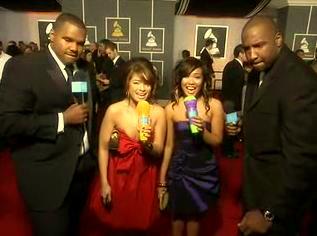 All guest stars walk on the famous "red carpet" and media people are usually on edge like vultures trying to get stars to chat, pose and play with them on camera. The more popular the star, the more the media wants him or her. I was trying to scour the internet for other outlets that may have covered Rin on the Rox. Lo, only the Ellen DeGeneres crew got their hands on the singing duo. :-(
Ellen DeGeneres sent her red carpet correspondents Chester Pitts and Ephraim Salaam to interview stars and names like Jack Black, Katy Perry, Taylor Swift, Jason Mraz, Sara Barielles, Jordan Sparks, Rin on the Rox and many more stopped over to chat and goof around. It looked fun! Erin and Roxanne fit in great on the red carpet. (more photos here.) I'm not too thrilled about their gown choices but they were both beautiful and glamorous- like they've been doing it for a long time. We're watching for more media exposures ladies and perhaps a record deal already! ;-)
This video shows a quick recap of Ellen the day after the Grammys and her show overall. It's really cute how Ellen got 'inspired' to sing with her guests in the bathroom- all thanks to Rin on the Rox! It started with Pink and now John Mayer. Towards the end of the show, her main guest John Mayer gamely joined her in the "Ellen DeGeneres Bathroom Concert Series" singing in the bathroom.
Pages: 1 2
Browse Timeline