What the Heck is Wrong with Grey's Anatomy? Musings From a Former Fan!

3 Comments
February 11, 2009 – 4:55 pm popping..
Warning: may excruciatingly bore Non-Grey's Anatomy followers…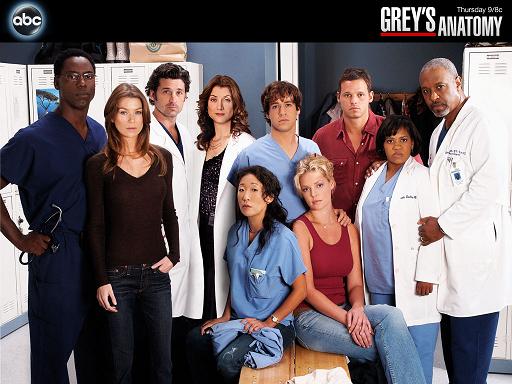 I don't know anymore why I still watch Grey's Anatomy now on its 5th season. There was a time when this Emmy and Golden Globe award-winning television show was at its best. Their peak was in Seasons 1-3, 2005 to early 2007 then it went downhill.  The show is highly-acclaimed for its so called blind-casting, resulting in a racially diverse cast. It is also praised by the Lesbian, Gay, Bisexual and Transgender (LGBT) community and Gay & Lesbian Alliance Against Defamation (GLAAD) group for its gay-themed storyline- a scarcity in primetime television these days. All is changed. I had faith in Shonda Rhimes, creator of the show but it is soon wading into oblivion.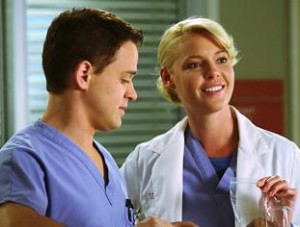 The recent speculations that Katherine Heigl and TR Knight are leaving the show would have to be the clincher for me. It's not because I am a fan of these two but because their characters are an integral part of the entire show. They are part of Meredith Grey's Anatomy- part of the make up, part of the analysis. They are among the few remaining of the original cast and without them, the basic framework and composition of the show would go along with them such was when Preston Burke and Addison Montgomery left the show. It never recovered in the TV ratings.
Seasons 1 to 3 was when the entire original cast were really given character roles to play with and they were all great at it. In fact so great was one role that she became too big of a character for the show to carry, Dr. Addison Montgomery's part played by Kate Walsh. In the end of third season, the brilliant Neo-natal surgeon, OB-GYN goddess and Medical Genetics Fellow: Cystic Fibrosis specialist moved out of Seattle Grace Hospital to start a new life in Los Angeles in the spin-off new show Private Practice (which I currently watch more than Grey's).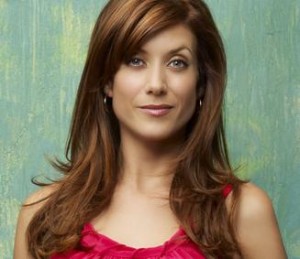 It was also at the end of Season 3 when Dr. Preston Burke's character, played by Isaiah Washington was canned- all thanks to the alleged anti-gay slur he uttered towards TR Knight, calling the latter a "faggot." This caused an outrage and Washington who apologized profusely and offered atonement was eventually let go by ABC network.
In Season 4, they introduced the role of Dr. Erica Hahn played by Brooke Smith as this totally unlikeable, unsympathetic Head of Cardiothoracic Surgery in Seattle Grace Hospital. Soon after, when all of the TV viewers believed in her character as the miserable b*tch that she is, Shonda Rhimes decided to soften her character by developing a lesbian twist to her character and become Dr. Callie Torres' love interest. Suddenly, viewers began to see a side of Erika Hahn that was human. She has a heart after all. Her role became interesting and appealing.
Dr. Calliope Torres played by Sarah Ramirez was this insignificant character introduced in Season 3 and later on became a top role as her character progressed. At that point, ABC added another plus to its hit show no pun intended, for casting a curvier, "real" Latin woman. Alongside, Ugly Betty played by another "real" curvy Latin woman America Ferrera where the show became a runaway hit for ABC when it premiered in 2006.
Sorry, you still with me? Where was I?


The Callie-Erika lesbian romance. Just when everybody was hailing ABC for putting out gay-themed storylines on primetime TV, things turned sour. They killed Erika Hahn's character as abrupt as the romance between the two even began to kick off! Why would you build a character up only to break it? ABC got cold feet. They vehemently denied that Brooke Smith was fired for playing a lesbian. It was just that her character had to end because it didn't click between her and Callie. Yeah right.
So now they put in a new character, intern Sadie played by Melissa George who was supposed to be bisexual and was going to be Callie's new love interest. She starts flirting with Callie then again they rewrite her character and she's suddenly no longer interested with Callie.
We don't know what's going on. Just last week's episode, we saw Callie Torres alone sulking in the bathroom of the Emerald City bar and enter this new character recently introduced this 5th season, Dr. Arizona Robbins played by Jessica Capshaw- surprising viewers when she gives a long kiss to Callie Torres in the bathroom.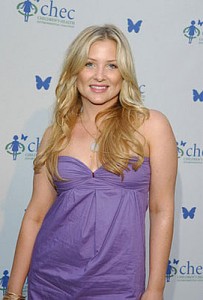 The characters are only good as the actors who play them are but these actors are only great when the writers make the most and best of their characters. This is what's wrong with Grey's Anatomy. The writers seem to have ran out of creativity and logic that they are just making things up as they go along.
I don't blame Katherine Heigl at all for sounding like an ingrate blurting out that the writers didn't give her anything of late that would merit attention to award giving bodies. She has won a Golden Globe and an Emmy for her role as Dr. Izzie Stevens in the past. This season Izzie spent her time talking and making out with a dead guy, his dead boyfriend Denny Duquette played by Jeffrey dean Morgan. What gives? There is no valid, logical explanation as to why a sane person would be having sexual relations with a dead guy! With a role like this, Heigl might as well just die with Denny.
I can't blame TR Knight either. Since Preston Burke's character was gone, George O' Malley's never the same. His dramatic moment was when his father died. The sub plots on him and Callie Torres getting hitched was plain stupid. Then he fails his residency exam and is retained as intern for some bad number of episodes, becomes the sidekick of Dr. Richard Webber (James Pickens, Jr.), playing even more stupid storyline around him. He finally passes his residency but the writers still do not know what to do with him! This season we have seen very little of George O'Malley and it was all about consoling poor Izzy on whatever issues she has. His lack of screen time sure would make him want to leave Seattle Grace. His character has become a cameo role and inconsequential to the entire show.
Mary McDonnell as Dr. Virginia Dixon plays a cardiac surgeon with Asperger's Syndrome- we get that but the writers made her both ridiculous and unrealistic. And interns operating themselves is laughable and stupid. Even the main characters of Patrick Dempsey and Ellen Pompeo: Dr Derek Shepherd and Meredith Grey are scaled down to nonsense talks and little screen time.
So far the current season has lead viewers to a charade of stupidity and trivialities we all could live without. This is an ensemble cast and every star should have their moments to shine in each episode. What's wrong with Grey's Anatomy is that it has lost its power to sustain a great show all because of poor writing and lack of creative storylines. This show is almost 5 years old. Eventually it will go there.  When this happens, it is time to end it. All great shows must come to an end. No show lives forever on TV. While they have the remaining star power in them, they should just put an end to Grey's Anatomy bury it alongside Denny Duquette's grave.
I am not taking anymore craziness from this show. I have supported and followed it for too long, it's time to move on. I'm going to sunny Los Angeles for Private Practice…
UPDATE: According to People, Katherine Heigl and TR Knight are NOT leaving Grey's Anatomy! However, that doesn't change my overall thoughts towards the show… I still think they should put an end to Grey's Anatomy while they are still at the top of their game– for lack of any more good stories. I'm done!