American Idol Season 8, Post Hollywood Week: The Good, The Bad and the Ugly of Top 36

5 Comments
February 19, 2009 – 12:42 am popping..

Ok I watch American Idol. I wasn't one to admit unless you're family or a close friend because I didn't want to get teased. But I already "outed" myself in a previous post some time ago, so there. :-)
I previously wrote:
… I won't even talk about it or join in conversation because according to some, reasonable (duh!) and cultured (gimme a break!) adults find reality TV shows (in general)

a.) an insult to one's intellect, b.) a complete embarrassment for the contestant who would do anything and compromise everything he/she stands for just to have fame and fortune! c.) a manipulation of TV networks to play with human nature and expose it to millions of viewers and earn big bucks while at it! d.) just a way of making easy money for tv networks and its contestants and e.) just for kids or for brainless people or for couch potatoes.
Am I reasonable? Am I cultured? I was trying to fit in that mold but thinking about it now- I don't give a crap! If an average of 40 million Americans vote and watch the show week after week and if millions around the world catch the show on cable, I don't think that's stupidity, maybe (a little) madness but can't call us brainless!
I call it one of my "guilty pleasures," although I skipped Season 6 and 7, didn't watch it! All because I was turned off at what America or if I am to believe my own conspiracy theory (that the show is somehow "rigged"- like the producers get to decide in the end who they want to win)- what they did to Chris Daughtry!! But like I said in the article, it was better that he didn't win it. Daughtry's bigger than big now!
It is American Idol season in America and the whole world is watching via cable! The undisputed number one hit show premiered its eight season on January 13 and 14 with a 4-hour extravaganza of people and places, presenting thousands of Idol hopefuls and the four witches of Eastwick or the four stooges plus one- your choice. They are known in Hollywood as Paula Abdul, Randy Jackson, Simon Cowell, the new addition-Kara DioGuardi and Ryan Seacrest.
I decided this year after missing the hype for two years, I could check it out again… I'm crazy with the number 8 and it's the 8th season of American Idol! Shallow excuse to watch a show, huh.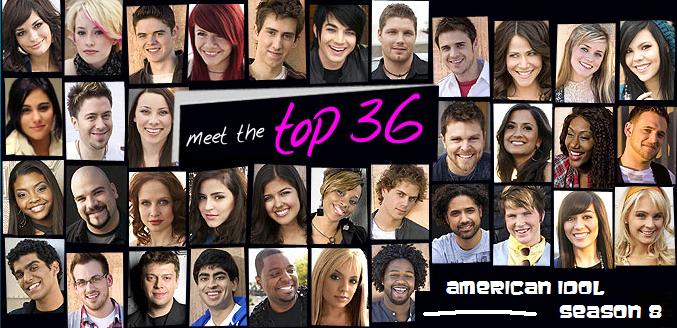 Pages: 1 2
Browse Timeline