Rin on The Rox Covers the Elton John Oscar Party For the Ellen Show

3 Comments
March 3, 2009 – 11:56 pm popping..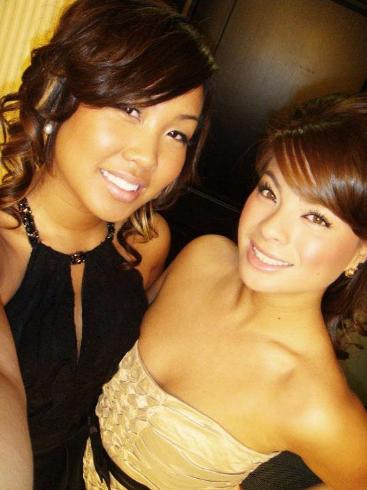 Ellen DeGeneres gave all Rin on the Rox fans a reason to smile again after the pair's YouTube channel "Hiphoprox" got canned. Ellen invited Erin Paula and Roxanne, whom she referred to as "friends" to cover Sir Elton John's Oscar Party! Rin on the Rox, though a little bit too bubbly did a great job interviewing Hollywood stars who stopped by their spot.
I'm not an avid Ellen viewer so I just learned about it! The Oscar party happened of course on Oscar night, February 23rd.
Elton John's annual Oscar viewing party is one of the well-attended Oscar events in Hollywood not only because huge names show up at the party but because the wine and dine affair is for a good cause. The glittering event now on its 17th year aims to raise money and awareness for Elton John's AIDS foundation. Over the years the party has raised about $20 million and this year's cash totaled over $4 million.
A-list attendees at the Pacific Design Center in Los Angeles were Josh Groban, David and Victoria Beckham, Nicole Kidman, Mary J. Blige and Donatella Versace. American Idol stars Simon Cowell, Randy Jackson and Carrie Underwood were also seen. Plus Elle Macpherson, Chris Noth, Eva Longoria Parker, Kiefer Sutherland, Quincy Jones, Smokey Robinson, Taye Diggs, and the featured singer of the night Raphael Saadiq.
This is what's great about Ellen and yeah Oprah! They know talent when they see it and they give the talent a break somehow in whatever means. You'd think after the invite at her talk show plus tickets to watch the Grammys live, Ellen would forget about Rin on the Rox. Nope and hopefully Ellen will have the duo in her show again singing NOT in the bathroom but on stage with a full song!
Ellen still credits Rin on the Rox for inspiring the show to create its own "Bathroom Concert Series." It's been most successful for Ellen that she's starting her own Video challenge. Create a video of yourself singing in the bathroom and the most creative singer wins! The prize is to be on the Ellen DeGeneres show and a chance to sing with Ellen live– in the bathroom! LOL.
Thumbs up to you Ellen! Kudos Rin on the Rox!!
On the YouTube suspension update: Me thinks this is really a lost cause. I've never heard of YouTube ever reinstating a deleted or suspended account especially after a third party claim. For what its worth anyway, it's nice to see fans from all over the world urging others to take action so YouTube would give in. I doubt that.
Browse Timeline