Karla Garcia's US TV Debut on So You Think You Can Dance Season 5

No Comments
June 11, 2009 – 2:40 am popping..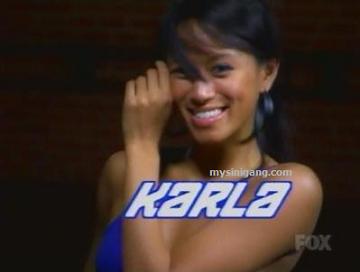 I have a strong feeling this site is going to be a "Karla Garcia FanSite" for the So You Think You can Dance Season 5 airing, and why not?! Her first US live national television appearance turned out to be a success. She's such a joy to watch. I'm glad the initial pairing with Ballroom dancer Max Kapitannikov wasn't final after all and she's being paired with Jonathan Platero for the entire season. No offense to Max but the current pairing is more "pleasing" to the eyes. Both Jonathan and Karla look comfortable and they seem to have that "chemistry" the SYTYCD judges always look for in the competition. (Watch the performance at the end of the post.)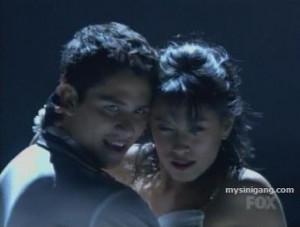 The other challenge is to bring out their personalities to the audience and be interesting, likeable and memorable in every performance they do. The problem with reality television shows is that there are too many contestants and if you're not extremely beautiful or extremely awful, you're not going to be highlighted. If you're middle of the pack, it's hard for you to be noticed. There are SYTYCD contestants who from day one were given full exposures and so America knew and followed them for a good number of episodes leading up to the live performances. Brandon Bryant, Paris Torres, Kayla Radomski, Evan Kasprzak, Melissa Sandvig, Kuponohi'ipoi "Kupono" Aweau and Philip Chbeeb are among those given 'royalty' treatments when it came to introducing them to the public. Karla and Jonathan weren't really given ANY airtime during the audition process and even in Vegas week when they were picking out the Top 20. They were just among the nameless faces in the crowd. No one knew them (except friends and families).

Executive producer and Judge Nigel Lythgoe couldn't have said it better when he gave his critique after their performance:
"Your another couple that has totally slipped under the radar. Nobody really knew who you were up until tonight. If you talk about chemistry, you two just exploded on that stage. Absolutely fantastic routine. It was exciting. It was challenging to you and certainly entertaining for us here. Congratulations, great routine."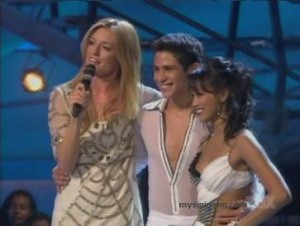 The pair danced a Cha-cha routine to a Lady Gaga song "Poker Face." I must say they weren't the BEST performers that night. There were 2 or 3 couples who were wickedly outrageous but they weren't among the worst either. It's safe to say that they will be 'safe' from eliminations tomorrow night. BUT BUT BUT like all reality television shows, it is all about the fan base and the more you have it, the more people voting for you. It doesn't matter if you are the best, you could still face eliminations like what happened to Chris Daughtry or Danny Gokey (hey, I wanted it to be between him and Adam Lambert in the final 2 of Idol!). If people don't vote for you, you will be cut regardless if you deserve to be cut or not.
It is unfortunate that they have to work extra hard to earn the audience votes unlike the other contestants who since audition already had a fan base going. That means Karla and Jonathan are 6 weeks behind these other hopefuls who were showcased early on. It is now up to Karla and Jonathan to prove their worth and earn the viewers votes. I think with their first performance, they earned that spot in the Top 20 and truly deserve to stay longer… Are you with me in this or not?!
Watch the performance here:
A full version of this video is available here, with complete introduction and judges comments.
To know more about Karla, this first post should help!
Find out who Karla and Jonathan are up against. Meet the rest of the Top 20 SYTYCD contestants by clicking here.