Karla Garcia and Jonathan Platero / Vitolio Jeune SYTYCD 5 Videos

2 Comments
June 12, 2009 – 4:53 am popping..
Karla and Vitolio's Exit Interview
Karla's signature move: the "whack and kiss" move
Jonathan's signature Salsa move
7/2 Karla and Vitolio's Last Solos plus their journey on SYTYCD Season 5
Solos:
* Karla Garcia: "Blackbird"—Dionne Farris
* Vitolio Jeune: "Here Comes Goodbye"—Rascal Flatts
7/1 Karla and Vitolio's Quickstep Performance with introduction and judges comments

7/1 Top 14 Solo Introduction plus Dance Recap

<
6/25 Results Night: Includes Solos of Vitolio Jeune, Karla Garcia and Jonathan Platero plus judges decision.
Music to the solos are:
> Vitolio Jeune: "Viva La Vida"—Coldplay
> Karla Garcia: "15 Step"— Radiohead
> Jonathan Platero: "The Hunted"— Kodo
6/24 Third performance, Hiphop Routine | Music by Jadakiss featuring Ne-Yo, "By my Side"
Top 16 Solo Introduction and Dance Recap

Short tribute to Jonathan's Journey on SYTYCD: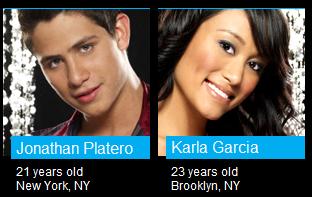 This is a special section covering videos of Karla Garcia's exposure on So You Think You Can Dance Season 5, along with partner Jonathan Platero.
This will be updated weekly showing all their performances and more.
Join the ride with me! Watch SYTYCD every Wednesday night at 8pm (eastern) and Vote for Karla! Results night follow every Thursday at 9pm (eastern) on the Fox Channel.
Q: How old were you when you started dancing?
A: 3 years old

Q: Do you have any formal dance training?
A: Yes, I trained in ballet, tap, and jazz for 15 years. Then I attended NYU's Tisch School, where I studied modern dance.

Browse Timeline