UPDATED: Jonathan Platero's HipHop was Off and Nasty Nigel's Harsh. Can Karla Garcia be Saved?!

1 Comment
June 25, 2009 – 1:35 am popping..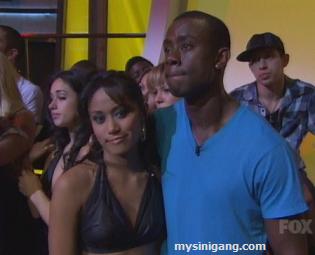 UPDATE: Karla is SAFE but Jonathan has been eliminated (rightfully, might I add- Sorry Jonathan…) from the competition. My 'prediction' was right; the judges kept Karla and let Asuka and Jonathan go.
A new partnering emerge with Karla paired now with Vitolio Jeune. This is kind of an odd combination. Karla and Vitolio both have been in the bottom three twice. That's not exactly good track record however it could work in their favor. As new partners they could just come out there strong and kill the dance for next week. There is the element of surprise on what the two can do on stage. Here's hoping that they would make that chemistry and connection work fast or at least 'fake it' it really well initially until they get comfortable working together.
Good luck Karla and Vitolio! Don't scare us again like that Karla… :-) Not sure what Nigel was talking about with your solo. It was beautiful and strong, not desperate as he claims. Check out Karla, Jonathan and Vitolio's Solos here.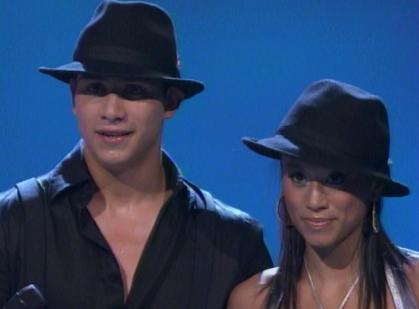 Uh oh. So you Think You can Dance couple Jonathan Platero and Karla Garcia may find themselves in the bottom three the second time with tonight's hiphop routine. Sure, it is with reason. After seeing all eight couples dance and rank them from great to bad, Karla and Jonathan's performance was weak. However, I thought Asuka and Vitolio's Jazz dance were the weakest and Philip and Jeanine's Broadway routine were weaker or vice versa. That still puts Karla and Jonathan in the bottom three but ahead of the two couples mentioned.
I could blame the choreographer for a boring, super smooth hiphop with very little 'storyline' to work with. Sorry Dave Scott, it isn't so much as the dancer's fault but has greatly to do with you as their choreographer as well. What wins votes are smooth hiphop with compelling stories and memorable songs in them. Chelsie and Mark's "Bleeding Love" and Joshua and Katee's "No Air" from last season especially comes to mind. I don't even know the hiphop track "By My Side" from Karla and Jonathan's performance tonight even though it is from Neyo.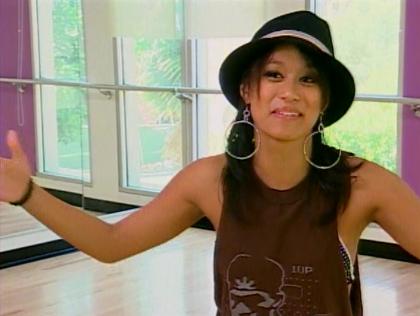 I could also blame the supposed 'luck of the draw.' Every week, each couple dances a routine randomly drawn from a hat. If you wiki it and check season to season, dance to dance (visit main article per season), Hiphop and ballroom have been the kiss of death on this show dancing as a pair. Picking a contemporary routine for any couple is a dream. No couple have ever been in the bottom from dancing Contemporary. You can't pick contemporary every week of course but I'm just wondering what are really the odds of the couple getting new dance style every week of the performance night versus getting two consecutive contemporary routine for example- for 2 weeks.
My conspiracy theory is the "drawing" is staged so that the dancers never have to repeat a specific dance style the following week. C'mon, each couple- and there's only 10 of them and now down to 8 -have each danced different styles for the last three weeks, how lucky or unlucky of them to pick a new routine every week if the hat isn't already pre-set to the dancers picking the dance. The producers already decide what these dancers will dance for that week and all that's there on the hat are the very styles the producers want for them to dance. Isn't that convenient? Of course, this is just my unwarranted presumptions. Who knows what goes on in the show when the camera is off?
In this current season, we've seen the first couple eliminated doing hiphop and the second girl also from doing hiphop. Each week, the couple/s who have done hiphop find themselves in the bottom of the pack.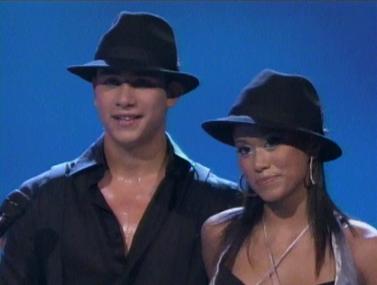 This is truly sad but I must say I think Jonathan is also the culprit. He is pulling Karla down. I thought initially Karla and him are going to be great as partners! On their first dance as a couple doing the Cha-cha- the judges have pointed out some weaknesses on Jonathan, not on Karla. They were in the bottom three. On the second dance, he got lucky they got contemporary which was Karla's forte. They were amazing and were safe from eliminations. Now on their third dance, hiphop- Jonathan wasn't doing his share of the dancing as a couple and the judges picked on him. If the audience do listen to the judges, they're doomed. I hope the audience make their own judgment.
Judges Comments
What bothers me is the judges' critiques specifically that of Nigel Lythgoe's. He is the Simon Cowell of So You Think You can Dance as Piers Morgan is in America's Got Talent and he's known as being "Nasty Nigel." Any rhetorics or punches from him is almost expected week after week. However, if he keeps up with that the least he can do is be fair when firing the meanness to those who really sucked!
Karla and Jonathan weren't the worst dancers of the evening yet they were the only couple Nigel was mean to. Perhaps being the first performers of the evening really is a great disadvantage. They get the first beating and by the time the two-hour show ends, people might have forgotten about the first couple who performed. So Karla and Jonathan were first and Nigel's 'attack' on the pair doesn't help at all.
This was how he critiqued Karla and Jonathan:

"It (the dance) feels like it's been sort of ironed out. There's no excitement in the routine. The one great thing for me with hiphop is fear… what are they gonna do, what's gonna happen? There's no danger in it…"

More blabber from Nigel with lots of gesturing and facial disgust. Asks Jonathan if he was comfortable doing the routine. Jonathan answers, "actually, today I did."

"All right, I can't forgive you then, because you had no contact with your partner. If you'd been worried about yourself, I could have forgiven you." Nigel responds.

I didn't know Nigel could have that power to forgive (or not) in the show.

Nigel continues: "That wasn't good enough either in style or anything else you did tonight. For me, that wasn't gangster, it was more like a Sunday school picnic outing."

Audience boos.

Nigel: "You can boo as much as you like, I bet you they're going to be in the bottom three. Wanna take bets? I'll take bets with you. It wasn't good enough." Looking really confrontational.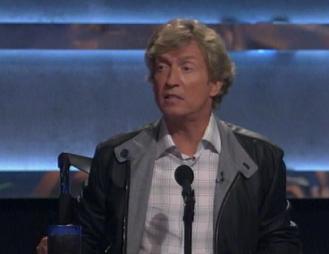 Oh so now he scolds and offends the audience- the very audience who make the show number one!
He continues to ramble until host Cat Deeley says; "Someone got up at the wrong side of the bed this morning…"
Judge Mary Murphy and Toni Basil were 'kinder in their criticisms even though they still rat on Jonathan and Karla who were keeping their poise and grace from the rough comments they have received. So sorry to see that.
I think Jonathan Platero is great at what he does, he wouldn't be in the Top 20 otherwise. However, the partnering isn't working for him and Karla. His pretty face can only get him into the top 20, the rest of the way he has to deliver the powerful dances! I voted for the couple extra tonight, like 100 times or so! Seriously. Many including I would truly be upset if Karla goes home tomorrow because of a weak partner. Let Jonathan go home if he has to go but if I were one of the judges (I Know, I'm not…), I will keep Karla and let Asuka go.
PLEASE AMERICA, PROVE NIGEL LYTHGOE WRONG!
For the complete performance video with judges comments and introduction, click here.
Please say hi and introduce yourself if you are one on the cool Karla fans with the signs! :-)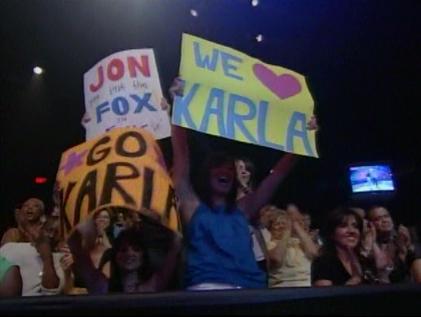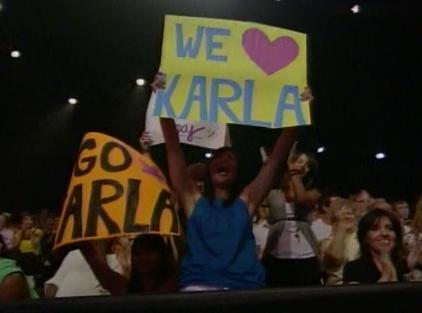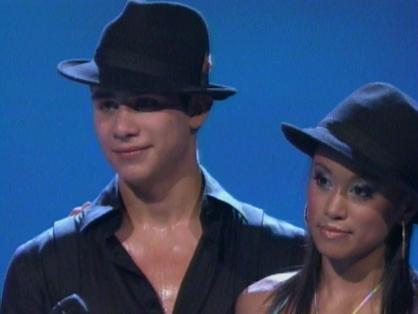 Hey, Karla is wearing a Manny Pacquiao Shirt!!