Big names, Huge songs at Michael Jackson's Memorial Service

No Comments
July 7, 2009 – 7:41 pm popping..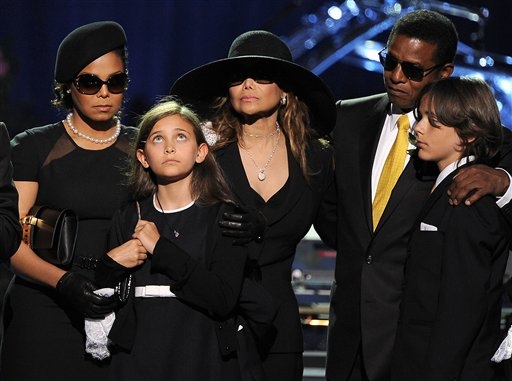 The Jackson family, from left, Janet Jackson, Paris Jackson, LaToya Jackson, Jermaine Jackson and Prince Michael are shown on stage at the memorial service for music legend Michael Jackson, at the Staples Center in Los Angeles, on Tuesday, July 7, 2009. (The Associated Press)
"We are the World," a 1985 song written by Michael Jackson and Lionel Richie, produced and conducted by Bruce Springsteen and Quincy Jones and recorded by an ensemble of 45 popular musicians billed as USA for Africa (United Support of Artists for Africa).
"Heal the World" is a song from Michael Jackson's hit album, Dangerous, released in 1991
Stevie Wonder sings "I Never Dreamed You'd Leave in Summer" and "They Won't Go When I Go" at the Michael Jackson memorial service.
Mariah Carey and Trey Lorenz sing the Jackson 5 hit "I'll Be There.
John Mayer played guitar on a whisper light rendition of Michael Jackson's song 'Human Nature' at Jackson's memorial service in Los Angeles Tuesday. Human Nature was released as a single in the U.S.A in July 1983.
Oscar- and Grammy-winning singer and actress Jennifer Hudson appeared at the Staples Center in front of a packed crowd to cover one of Jackson's hits from the 1990s, "Will You Be There."
Lionel Richie sings "Jesus Is Love" at the Michael Jackson memorial.

Jermaine Jackson sings "Smile," one of his brother's favorite songs.

RIP Michael Jackson, 1958-2009
Browse Timeline