McDonald's Free Mocha Mondays until August 3rd, Grab one next Monday!

No Comments
July 14, 2009 – 2:00 am popping..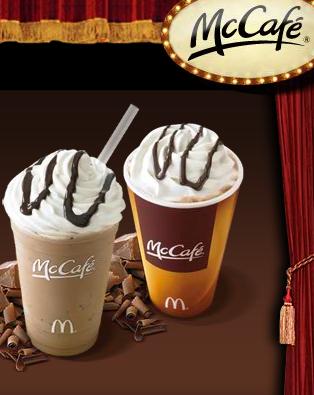 FYI to coffee lovers out there. McDonald's is having their freebie for the summer. Happening on 4 Mondays only from 7/13, 7/20, 7/27 to 8/3 between 7am and 7pm, they are giving a free cup of McCafe iced or hot Mocha- per person per visit.
Forget about Starbucks coffee- it's all hype and overrated. Mccafe Mocha is not the same as Dunkin' Donuts coffee but it's all right. Hey, anything FREE these days is great!

"America runs on Dunkin'" so goes Dunkin's slogan and it's true- in the east coast anyway especially here in Massachusetts, home of the first Dunkin' Donuts. Their iced coffee is the best! I found out about this when I moved here! McDonald's coffee has vastly improved but the McCafe series is just way too sweet for my taste. I never really cared for much about Starbucks, I'd drink it now and then but I prefer Dunkin' Donuts.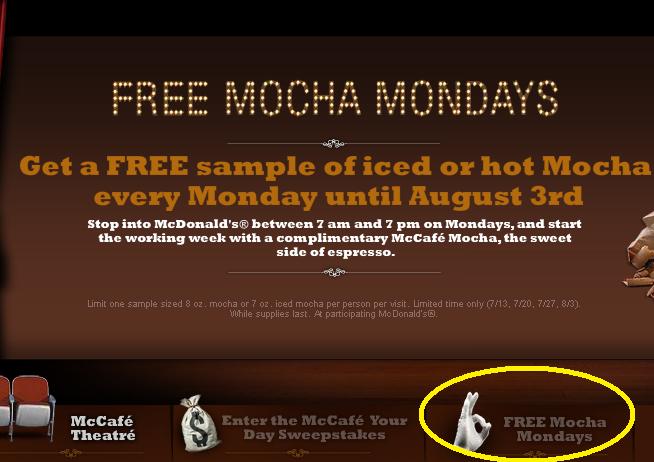 I had my free McCafe Iced Mocha yesterday. No coupon needed, just a thick face like mine if not buying anything else. Then I stopped by the nearest Dunkin Donuts and bought myself some "Boston Kreme" to go with it. LOL. Well, maybe next Monday I'll actually order something with my free mocha- a breakfast meal. Maybe. ;-)
Check out the free promotion at the McDonald's site. As far as I can tell the offer is available at all McDonald's outlets in the United States. Find the link where it says "Free Mocha Mondays" at the bottom page.
Talking about Dunkin' Donuts, I found this latest news sad. They are closing 13 locations in Manhattan, New York and a Canadian coffee giant called "Tim Horton's Coffee and Baked Goods" will take over. Horton who??
No news about closing stores in Boston -yet, fingers crossed. Hey, 13 is nothing compared to Starbucks closing 600 stores in the United States! 600 where they only have over a thousand stores across North America.
Apparently, Starbucks is going to concentrate on its Asia-Pacific expansion, opening like mushrooms there especially in China. Starbucks is all over the Philippines! The company felt that Asia offered more potential than Europe. That is such a shameful statement. Talk about 'brainwashing' a poor country like the Philippines into thinking that everyone should drink Starbucks coffee where a cup of a Frappucino cost about half a day's paycheck of below minimum wage earners in the Philippines. Way to go Starbucks!
Browse Timeline