(UPDATED) YouTube Viral Video: Best Wedding Entrance Dance/March Ever!

3 Comments
July 26, 2009 – 4:27 pm popping..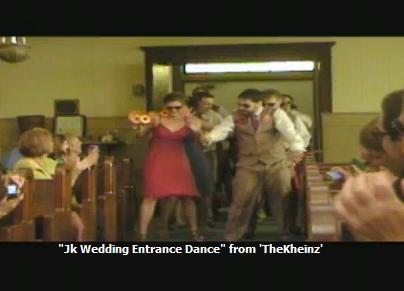 This is the best Entrance Wedding March or should I say dance, I've ever seen. It is so original and creative if not funny. Somehow in its humor, I was very touched because it felt real. Weird. I was laughing but it was so sweet I wanted to cry too. LOL! Everyone was genuinely happy as it should on one's wedding day, including the guests. Awesome!
In just a week since its upload, the video has received over 6 9 million views/hits with a five star rating from over 3747 thousand YouTube members with over 35 50 thousand and counting comments! Already, user "TheKheinz" channel enjoys being the #2 – Most Subscribed (This Week) and #19 – Most Subscribed (This Month) on You Tube's ranking. Pesky users and impostors also have already come up with copied videos of the original in the hope of getting hits and subscribers- very lame and shallow. They ought to be ashamed.
Below is the original version. please only forward or link with the original author in You Tube. Enjoy!

UPDATE: Shucks, they've disabled the embedding feature. Kindly click on the video to go to You Tube. It is working again. Watch it here!

Music: "Forever" By Chris Brown
JK Wedding Entrance
"Our wedding entrance dance to Forever…yeah, forever. It took place at a Church in Saint Paul, Minnesota."

– The Kheinz
I was reading some of the comments on Youtube and was surprised to see some were negative and were not getting it at all. Lighten up people! This is done with love, respect and sincerity– that some couples in most 'serious, conventional, and rigid' ceremonies can only dream of on their wedding day. As for the song choice, "Forever" fits for a perfect wedding song- unfortunately it is associated with Chris Brown. Most people are appalled by what Chris did to Rihanna and so some commenters are 'condemning' this video for using the track. Still…
Thanks to my sis, Wena for forwarding this viral email! It made my day. I'm still smiling and have watched the video 5 times! :-)
MORE UPDATE: August 5th

From Reuters: A video clip showing the traditional wedding procession reworked into a dance routine involving the entire wedding party is one of this year's biggest viral video sensations.
July 27th
The NBC Today Show featuring Matt Lauer and Meredith Vieira sure did not waste any time. On recent episode, the "TheKheinz" are introduced in the show and the following day, have the entire dance crew recreate the Wedding march scene on the Today show plaza in New York. Instant 'fame'? Certainly. Kevin Heinz and Jill Peterson look like a happy couple that they are on that viral video.
Visit msnbc.com for Breaking News, World News, and News about the Economy
Visit msnbc.com for Breaking News, World News, and News about the Economy
Browse Timeline