Win Journey Live in Manila Concert DVD, Revelation CD Album and T-shirts!

23 Comments
January 15, 2010 – 3:41 am popping..
NEW UPDATE: This contest is now officially closed. Thank you to all who took the time to send out the postcards. I received 22 in total! I wished I had gotten more because I had more DVDs and shirts to give! My plan was to give away the merchandise to 20 people if I gotten at least 30 – 40 postcards! I'm surprised only few people took interest. To those who participated, Maraming Salamat, Thank you very much! Here are the 10 winners as promised:
1. Spanky of Manila, Philippines – Codename: ARNEL
2. Michael of Doha, Qatar – Codename: ARNEL CD
3. Marites of Davao, Philippines – Codename: ROSS
4. Archie of Las Pinas, Philippines – Codename: DEEN
5. Joy of Los Angeles, CA- Codename: NEAL
6. Ana May of Garden Grove, CA – Codename: JONATHAN
7. May Ann of Makati, Philippines – Codename: NEAL
8. Chi of Sta Ana, CA – Codename: NEAL
9. Norie Kate of Doha, Qatar – Codename: NEAL
10. Elizabeth of Long Beach, CA- Codename: NEAL
I received 2 online entries from Danilo of Mandaluyong, Philippines and RJ of Las Pinas, Philippines but unfortunately, their postcards seem to have been lost in the mail. Sorry, I never got the postcards…
All the items will be shipped out this week. Please hang in there as I would have to create 10 packages! Drop me a note here when you get the items. Thank you and until the next contest. :-)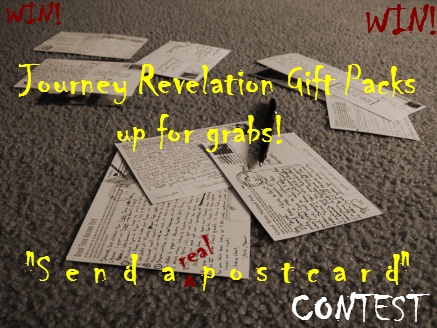 UPDATE: Yay, I have received 12 postcards last week from 7 people. 4 from UAE and 3 from the Philippines! Thank you much. I enjoyed and loved all the postcards from Michael Ryan, Roland, Norie, Norie Kate, Spanky, May Ann and Marites. Special shout out to May Ann: The "Go Visa" postcard ad was really cool!! I don't have that yet. Please check out the postcards here. I am giving away 10 gift packs, I still need postcards!! :-)
– O –
Are you a long time Journey fan? A new fan just discovering Journey's music? Perhaps simply an onlooker curious what Journey music sounds like with their new Filipino front man Arnel Pineda? Now is your chance to unearth Journey's music without "buying." This site is giving away FREE Journey music and shirts to 10 readers! This is my way of supporting the band and Arnel Pineda and spreading their music "legally."
The requirement is simple and easy. I am a postcard collector and I love getting postcards from all around the globe. Wherever you are, just send a real stamped postcard and you could win a Journey Gift pack of your choice worth *$50.00 per pack! 10 Winners, $500 Total worth of prizes!! After sending the postcard, simply fill out a form with your name and mailing address (located at the bottom of this post) and what you want to win. That's it! I welcome all entries/postcards. One postcard, one entry! Please limit 2 postcards per mailing address.

Continue on next page…
Browse Timeline