Manny Pacquiao vs. Joshua Clottey, Shane Mosley vs. Floyd Mayweather Jr.

4 Comments
February 25, 2010 – 7:53 pm popping..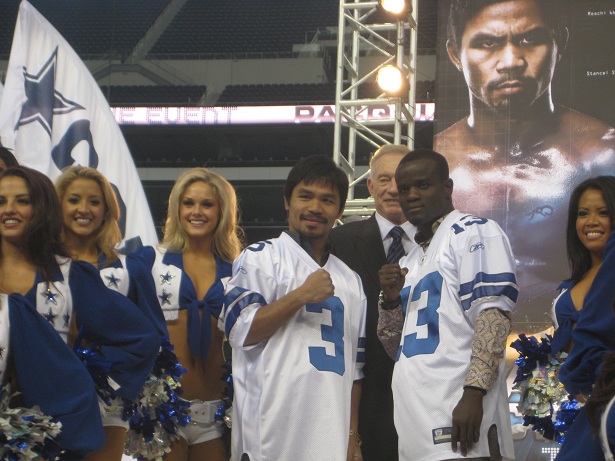 Just how the turnout of events can truly be unpredictable, the supposed biggest fight in boxing history between Manny Pacquiao and Floyd Mayweather, Jr. set for March 13th this year has come to an official end after the two parties agreed to all terms but one- the drug test. Now they are facing different opponents disappointing fans from both sides who were eagerly anticipating the big fight. Manny Pacquiao vs. Joshua Clottey and Shane Mosley vs. Floyd Mayweather Jr. on different occasions.

What was the contention in the fight that never happened?
Mayweather Jr along with his father Floyd Sr insinuate that Pacquiao is using performance-enhancing drugs (PEDs) so they want to subject both Mayweather and Pacquiao to an Olympic-style drug testing before the fight. Floyd wants a random testing done by the United States Anti-Doping Agency but Manny refuses to have any blood testing within 30 days of the fight, because he believes it would weaken him. However, he agrees to have blood taken from him before the 30-day window as well as immediately after the fight. Mayweather offers a 14-day no blood testing window but Manny counters 24-day no blood testing. The two reached an impasse, one defending his pride and not giving in to 'manipulation' and the other insisting it is in the interest of fair play and leveling the playing field. In the end, both walk out to making history and a $40 million deal.
Interestingly, random blood testing is not required under the rules of the Nevada State Athletic Commission therefore technically Manny has every right to refuse. But as sportsman and professional athlete admired by millions all around the globe, doesn't Manny owe it to his fans and to himself to prove that he is "clean"? If your name and honor is at stake (beside the huge money deal involved!), if you have nothing to hide, shouldn't your goal be to clear your name and prove your accuser wrong? Instead, Manny files a lawsuit against Floyd Mayweather, Jr., Floyd Mayweather, Sr., Roger Mayweather, Mayweather Promotions, LLC, and Golden Boy Promotions executives Oscar de la Hoya, and Richard Schaefer seeking damages in excess of 75,000 dollars for making the false and defamatory statements.

Roach is quoted as saying: "if we had given in on the blood testing, it would have been like giving Mayweather the first round. Why would we do that?"
"Manny hates needles. He said that's what cost him the first [Erik] Morales fight [March 2005]. We made a mistake on that one. Nevada has every boxer give blood once a year, and Manny hadn't done that, so we had to do it the night before the fight, just like Mayweather wanted. Manny said it made him weak for three days. Even if they took blood from him 14 days before the fight, that would have meant I lose him on key sparring days 14, 13, and 12 days out."
As I have mentioned in other occasions, I am a fan of Manny Pacquiao in the boxing ring (not his political or showbiz ambitions) because we hail from the same hometown, but to walk out of a deal because you are afraid of needles or you hate it is a weak argument. He has to be accustomed with blood work by now because this is SOP. The athletic commission does not require random but does require blood testing done annually or as scheduled prior to a fight. Fact is that Manny did have blood taken 14 days (what Mayweather wants) prior to his fight with Ricky Hatton, an event which was documented on HBO's 24/7 reality show.
On the other hand, Floyd Mayweather Jr have been described all over the internet as the big mouth, cocky, arrogant boxer and certainly was out of line to demand such a procedure to his opponent when it is not even required by the Nevada Commission. So really, why should Manny give in to Floyd's whim? Mayweather was making up excuses to withdraw from the fight because as the fight became more and more real, he realizes Manny Pacquiao could take him out and he could lose which means he will lose his winning streak, no loss record (40-0)! What better way to back out of a deal but to turn things to your opponent, by demanding something that targets your opponent's apparent kryptonite or Achille's heel? As though now, it is because of the opponent that the fight is no longer happening! In this case, Manny insisting on a 24-day window blood testing while Floyd wants 14-day window.
Upcoming Fight


The Event: MANNY PACQUIAO vs. JOSHUA CLOTTEY WORLD WELTERWEIGHT CHAMPIONSHIP!
SATURDAY, MARCH 13, 2010 :: 9PM COWBOYS STADIUM, Arlington Texas LIVE on PAY-PER-VIEW!

Ticket prices to see it in the stadium are: $50 (mezzanine, 300 level), $100 & $200 (main concourse, 200 level), $300 (Hall of Fame, 100 level), $500 (floor seating), and $700 (floor seating). "The Event" will also be televised on pay-per-view in high-def throughout North America on HBO with a suggested retail of $49.95. There will also be an international broadcast of the event.

Floyd Mayweather vs Shane Mosley on SATURDAY, May 1, 2010 at MGM Grand in Las Vegas.
Current Stats:
Joshua Clottey
Record: 35 W 3 L 0 D 20 KOs
Alias: The Hitter
Weightclass: Welterweight
Stance: Orthodox
Style: Boxer
Height: 5'8″
Reach: 70″
Nationality: From Accra, Ghana
Date of Birth: March 16th, 1977
Manny Pacquiao
Alias: Pacman / The Destroyer
Record: 50 W 3 L 2 D 38 KOs
Weightclass: Featherweight
Stance: Southpaw
Style: Boxer Puncher
Height: 5'6″
Reach: 67″
Nationality: From General Santos City, Philippines
Date of Birth: Born December 12th, 1978
Floyd Mayweather Jr
Record: 40 W 0 L 0 D 25 KOS
Alias: Pretty Boy
Weightclass: Jr Middleweight
Stance: Orthodox
Style: Boxer
Height: 5'8″
Reach: 72″
Nationality: Grand Rapids, MI, USA
Date of Birth: February 24th, 1977
Shane Mosley
Record: 46 W 5 L 0 D 39 KOs
Alias: Sugar
Weightclass: Welterweight
Stance: Orthodox
Style: Boxer Puncher
Height: 5'9″
Reach: 74″
Nationality: Lynwood, CA, USA
Date of Birth: September 7th, 1971
I'm guessing whoever wins in both of these fights will have to face off. Will we ever see a Mayweather vs Pacquiao fight? Not if Mayweather is still too chicken to face Pacquiao!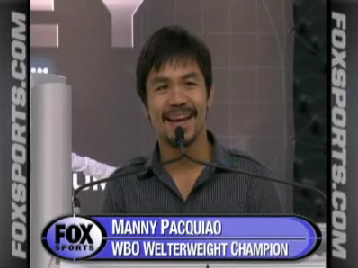 On a different note: Manny Pacquiao is still living his pipe dream to become a politician in the Philippines. After losing not only a congressional seat but a huge amount of own money for campaign in General Santos City in 2007, he changed residence so he could run for a congressional seat in Sarangani province in the upcoming 2010 Election in May. Pacquiao is up against a wealthy, political fixture in Sarangani who is tough to beat. I hope the people of Sarangani province will think hardly before putting the popular yet inexperienced Pacquiao into office.
UPDATE: Well, I'll be dang! Manny won in Sarangani!! I feel bad for Sarangani Province already…
Think about this: would you really want a guy who once filed for a Php30 million libel suit against writers of Manila Bulletin then changing his mind because "pursuing the case would only cause inconvenience to him and his family," representing you in government?
The article by the way Paquiao viewed as libelous, though NEVER proven, is still something that hangs over his reputation because the speculations remain and Pacquiao never addressed the issue. The 2007 article read "Pacquiao who spent millions in unsuccessful bid to win a congressional seat in his hometown in General Santos City is reported to be a compulsive gambler and is known to bet hundreds of thousand in casinos, cockfighting, and billiards."
May I also remind the people of Sarangani: "would you really want Pacquiao, a guy who once signed a contract with Top Rank and then accepted a bag full of cash from Golden Boy to also sign with that company, representing you in government?" (ESPN Sports blog)
Well, I leave you with this amusing if not cute video of Manny speaking in front of a huge crowd in Dallas, Texas as he talked about defending his welterweight world championship against Joshua Clottey in true, definitive, Filipino accent fashion.
Browse Timeline