Moviewatch: Twilight Girls Gone Wild in "The Runaways"

1 Comment
March 19, 2010 – 7:26 pm popping..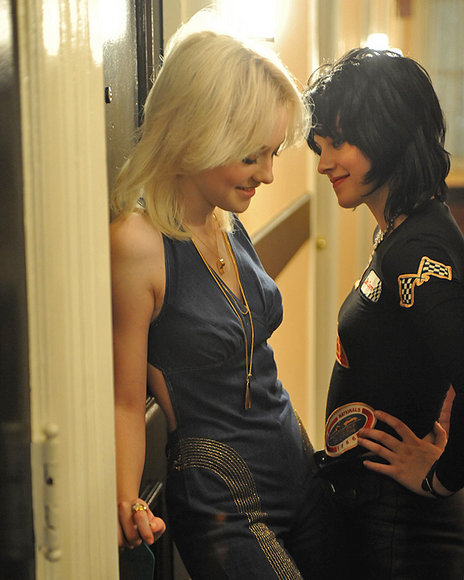 The Runaways movie premieres nationwide in the US, March 20th- the same day The Twilight Saga: New Moon DVD is released. Now Twi-hards have another thing to obsess about- Dakota Fanning and Kristen Stewart star in a biopic of the first all-female rock band in the mid-70s, known as The Runaways who lived up to that tumultuous era in rock n' roll. This Indie movie was first presented in Sundance on Janaury 2010 and was luckily picked up by Apparition for wider distribution.
This movie isn't for the fainthearted Twilight fans nor is it for under 17 (Under 17 requires accompanying parent or adult guardian) as this gets an R rating for sex, drugs, rock 'n' roll — all of it under age. I don't recommend young girls to watch this unless they can clearly take the good out of the bad from it.

This film brings us back to the 70's with all its cliches and what we know about rock n' roll. Not much has changed really- managers taking in all the control and money, lots of experimentation and acting out, rebelling. Think lots of drugs, sex and booze! On top of that the girl band who were all barely 18 weren't exactly packaged as Taylor Swift or Miley Cyrus but were presented more as sex objects ready to be every guy's fantasies. And of course there is the much-buzzed about make out (kissing) scene between Dakota and Kristen!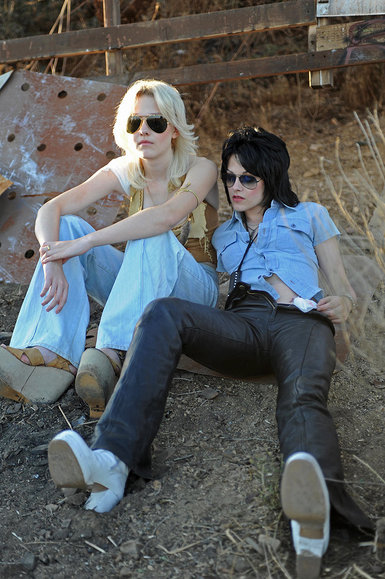 Just a sample of how the movie goes from a Rolling Stone Movie Review:
"Come on, you filthy pussies, let's rock and roll."

That trash talk is aimed at Kristen Stewart, 19, and Dakota Fanning, 16, stars of Twilight: New Moon, by Michael Shannon, in fierce, flamboyant form as evil-genius manager Kim Fowley. Kim is cursing the girls as members of the Runaways, a pioneering band of five jailbait rockers from broken homes that he wants to turn into the female Beatles.
I liked Stephanie Meyer's Breaking Dawn book the most but not a Twilight Saga movie fan, haven't seen New Moon and hated the first film but this movie might just change my mind on Kristen Stewart. I am also looking forward to seeing Dakota Fanning tackle on such a dark character where she's anything but tame. I thoroughly enjoyed Dakota in The Secret Life of Bees and she's a revelation!
Reading from different interviews, I am most excited about the soundtrack and music on the film. It's amazing how Dakota and Kristen used their own singing voices and have the original characters Lead singer Cherie Currie (played by Fanning) and guitarist Joan Jett (played Stewart) praise them as though they were looking at the mirror seeing the two actress play them- not only look the part but sound like them too!
The Runaways is getting mixed reviews ranging from awful and a waste of a film to triumphant and must-see. Can Dakota Fanning and Kristen Stewart Twilight fans breakaway from seeing Bella Swan and Jane (going wild) in this totally different genre movie? Watch the trailer below. What say you?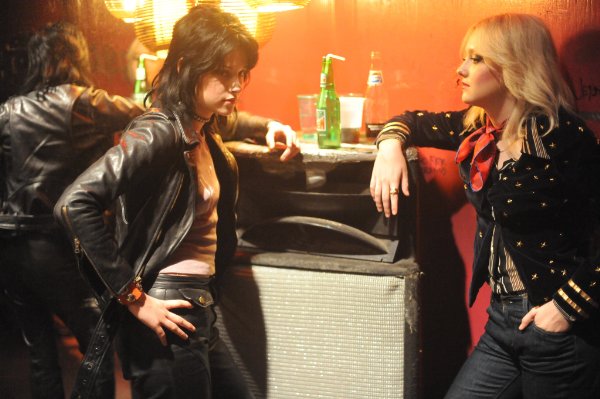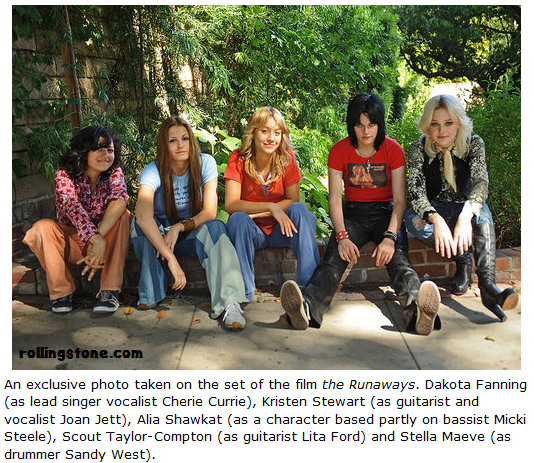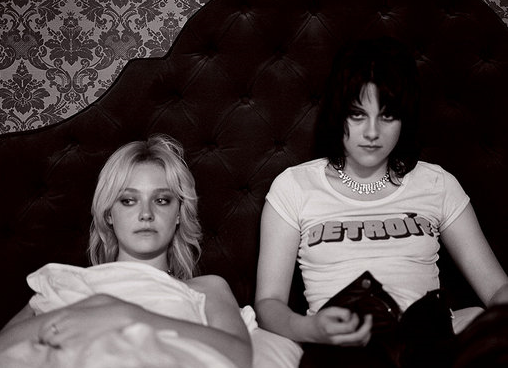 I wish I've come up with the catchy title first but I 'borrowed' it from Vanity Fair's review!