Congressman Manny Pacquiao finally agrees to blood testing! Will Floyd Mayweather, Jr bite?!

1 Comment
May 25, 2010 – 11:26 pm popping..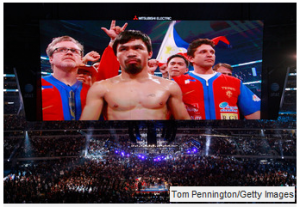 Since my article in February about Manny Pacquiao and Floyd Mayweather Jr, a few things happened.
Manny Paquiao did knock out Joshua Clottey and Floyd Mayweather Jr. won against Shane Mosley in their respective fights early this year. So now, this news:

Manny Pacquiao Now Willing to Do 14-Day Testing Window

In February, Manny Pacquiao ignored a Floyd Mayweather compromise that would have had their blood testing impasse met in the middle at 14 days prior to fight night. Now, after both men have won subsequent fights against Top 10 welterweights, Pacquiao has confirmed he would be willing to agree to the offer.

"14 days is ok with me, as long as [the blood test] isn't done on the day of the fight, and only the right amount of blood will be drawn from me," Pacquiao detailed to the Filipino press.

The quote is Pacquiao's first statement on a potential Mayweather bout since his post-fight interview in March after defeating Joshua Clottey. At the time, Pacquiao refused to budge on Mayweather's Olympic style drug testing demand, but stated his goal to fight the winner of Mayweather-Mosley.

Last month, Mayweather silenced critics by outclassing Shane Mosley to a blowout decision win. After that fight, Mayweather said the 14 day offer was now off the table, reiterating his stance from February after Pacquiao walked away from the negotiating table rather than compromise further on the testing. Before talks ended, Pacquiao's final offer had been random testing no more the 24 days before the fight.

Despite several articles reporting otherwise, neither Floyd Mayweather nor his camp have released any statements since Pacquiao's new stance on the testing. A few weeks ago, Pacquiao promoter and Top Rank CEO Bob Arum said that both sides will discuss business in private to prevent the media circus and pandering that helped sink the previous negotiation.

If terms are met, the fight will be the most lucrative in boxing history with a November target date.

via Allhiphop.com
The other big thing that happened to Manny: Last May 10, 2010, Pacquiao was elected as Member of House of Representatives in the 15th Congress of the Philippines representing the province of Sarangani. He established the record of being the first active boxer to become a congressman in the Philippines. (Wikipedia)
Mind you, Manny Pacquaio is originally from General Santos City where he also ran and lost a huge amount of own money to campaign in 2007. He changed residence so he could run for a seat in Sarangani province. I feel bad for Sarangani already…
I hope he hires ghostwriters and does not write his own speeches or agrees to any impromptu address in congress lest he wants to embarrass himself! While this video is cute and I am not making fun of him at all– but this only works in informal gatherings and venues NOT in the House of Representatives!!
Sports and Politics are like oil and water. Politics and Showbiz- same thing!! They do not mix together!!