OMG, Charice joins the biggest show in America today; officially a GLEEK or a rumor?!

No Comments
May 25, 2010 – 11:10 pm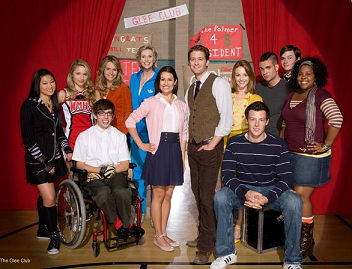 I found this news rumor on Broadwayworld.com.
Broadway World is such a respectable site for everything Broadway/Theater and the like. It is very surprising to find how they can run a story without validation. Nonetheless, their main source is from the reputable Philippine Daily Inquirer and it quoted Charice' manager Grace Mendoza.
"The Phillippine Daily Inquirer confirms that Charise, the Philippina singing sensation will join the cast of GLEE next season. Her manager, Grace Mendoza, tells the Inquirer: "Yes, it's true, Charice will soon join GLEE… And not just as a guest, but as part of the cast in a new season." [Note: Yes, they've misspelled Charice' name and Filipina!]
Digging into it because I am a huge Glee fan, I found out the link to the Inquirer doesn't exist anymore. Either they have been removed because it was false or they intentionally put the story up without confirmation other than rely on the manager's words. In which case, I strongly suggest Charice fire her own manager for starting out an incredible story that isn't true.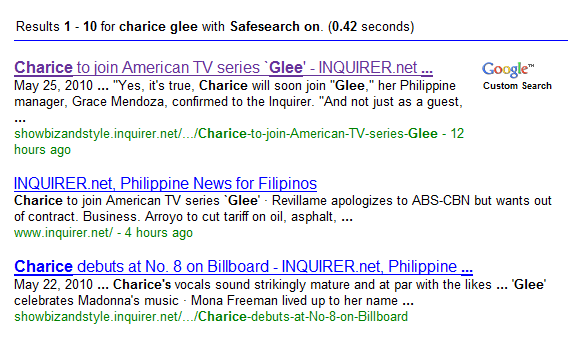 The link to the Inquirer still has the URL with Charice and Glee on it: http://showbizandstyle.inquirer.net/breakingnews/breakingnews/view/20100525-272061/Charice-to-join-American-TV-series-Glee however when you click it, it leads to a tech story that is totally unrelated [Nitro PDF Reader out to blow away Adobe]. I tried doing a search on the Inquirer database: "charice glee" and it says it has the story [see photo] but again leads me to that same tech story!!
On Charice official Twitter: Today, May 26th– she just dismissed the rumor outright!!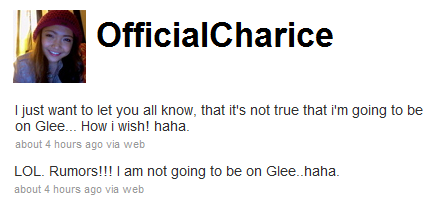 I am so bummed!! Being on Glee is any Hollywood actor and artist's dream right now. Many celebrities/singers (Jennifer Lopez, Britney Spears) and some Season 9 American Idol contestants (Didi Benami, Todrick Hall, Tim Urban, etc) have expressed their interest to be part of the show! All the songs covered on Glee have become certified hits all over again, beginning with their cover of Journey's "Don't Stop Believing" last season. This season, Madonna lent her song book to the cast and it was well received! Why tonight, they just did Lady Gaga!! They have covered music by Rihanna, Billy Joel, Beyonce, REO Speedwagon to Olivia Newton-John(!) to Broadway musicals and the cast have even been invited to the White House and rub elbows with the Obama's during the Easter Holiday.
Nevermind that the show is geared toward teens and tweens, with High School issues and cliche's. I love theater and Broadway musicals and that's how I see this show- a big musical production.
What is Glee?
Television's most award-winning new series, GLEE was recently honored with a Peabody Award; a Golden Globe for Best Television Series, Comedy or Musical; a Screen Actors Guild Award for Outstanding Performance by an Ensemble in a Comedy Series; and a People's Choice Award for Favorite New TV Comedy. The music from GLEE is an international sensation with "Glee: The Music, Volume 1" and "Glee: The Music, Volume 2" topping charts in Australia, the U.K., New Zealand, Ireland and Canada. In the U.S., over 4.5 million songs have been downloaded, and both albums have been certified Gold for sales in excess of 500,000 units.
The show's musical performances have been a commercial success, with over two million copies of Glee cast single releases purchased on iTunes. In 2009, the Glee cast had 25 singles chart on the Billboard Hot 100, the most by any artist since The Beatles had 31 songs in the chart in 1964. (Wikipedia)
GLEE follows an optimistic teacher who – against all odds and a malicious cheerleading coach – inspires McKinley High's Glee Club to conquer the world one singing competition at a time. GLEE stars Dianna Agron, Chris Colfer, Jessalyn Gilsig, Jane Lynch, Jayma Mays, Kevin McHale, Lea Michele, Cory Monteith, Matthew Morrison, Amber Riley, Mark Salling and Jenna Ushkowitz.
GLEE airs in the US at 9pm on FOX channel Tuesdays.
Check out the official Glee website to learn more about the show.
via Broadway world