Alexie Agdeppa So YouThink You Can Dance 7 Videos

No Comments
June 11, 2010 – 1:47 am popping..
This page will update every week Alexie performs on the So You Think You Can Dance stage. I am hoping to be back here every week featuring her dances on the show- with America's votes!!
Please help spread the word. Vote for Alexie! Watch the show on Fox every Wednesday 8PM EST (performance/voting night) and Thursdays, 9PM EST Results.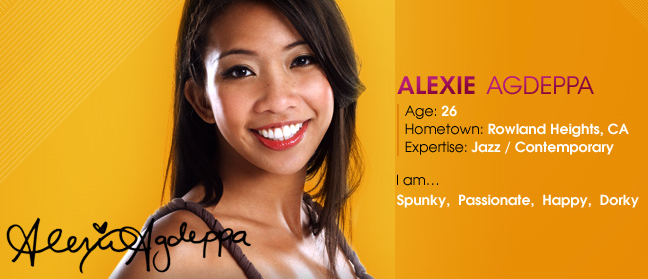 Results and short tribute | Voted off June 16th | Top 11 results show


Top 11 Group dance, Results show | June 16. Music: "Acapella" by Kelis | Choreography by Tessandra Chavez
Competition starts this week, June 16th
Alexie is paired with hip-hop all-star expert Twitch Boss, a season 4 favorite! Music: Butterfly by Jason Mraz | Choreography: Napoleon and Tabitha D'umo
This wasn't hard hip-hop, more like girly hiphop. Wasn't her best but definitely NOT an elimination performance! She held her own dancing with Twitch and I enjoyed it. I'm voting for her no matter what! Please vote too: 1-888-623-7807
First performance on the show | June 10. 2010 | Music: "There's Got To Be Something Better Than This" from Sweet Charity (Original Broadway Cast)
Alexie is dancing with another hopeful, Melinda Sullivan. They dance with previous season faves Allison Holker (Season 2) and Lauren Gottlieb (Season 3) in a Broadway routine choreographed by Tyce DiOrio. [Tyce is fresh from choreographing the Tom Cruise on his recent hilarious appearance on MTV Movie Awards (June 5) as his potbellied film producer character, Les Grossman, from the film Tropic Thunder- shaking his booty to a Ludacris song with Jennifer Lopez!]
Meet the Top 11 Dancers | Who Alexie will be up against!


Audition | June 3. 2010 | Los Angeles, CA