9/21 Charice' impressive US television debut on Glee! (VIDEOS)

No Comments
September 22, 2010 – 1:48 pm popping..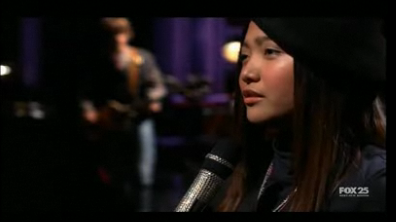 Strong points in the premiere episode of Glee Season 2:
> Showcasing Charice' vocal prowess and playing off as a 'threat' to powerhouse Lea Michelle!
> Mentioning "Philippines" and "Filipino" on the number one show on US television.
> Charice deserved MORE airtime but she really came out strong and played the part. She can't only sing amazing but she can act too! :)
> SUE SYLVESTER!!
Low points:
> Charice' name on the show: Sunshine Corazon?? … because she's from the Philippines where it's 'sunny' everyday! Duh!
> Dressing down Charice looking like a 10 year old when she should be playing at least a HS student– Sanrio mini-backpack, really?!
> Yet the producers pick on an overplayed diva song for her audition piece- could have opted for a more upbeat tune!
> Was that the worst rendition of "Empire State of Mind" or was that THE worst?!
> Condescending undertones on ASIANS and stereotyping! You'd think the producers know better!!
> Looks like Charice won't be a regular because New Directions' nemesis the Vocal Adrenaline already "pirated" her… We'll see.
Videos after the jump!

Face off between Lea Michelle and Charice' characters; singing Lady Gaga and Beyonce's "TELEPHONE"
Charice "auditions" to be part of Glee Club: Listen
"Empire State of Mind"
Browse Timeline