Pres Benigno S. Aquino III shuns expensive lunch and settles for New York hotdog, yay or nay?

1 Comment
September 26, 2010 – 4:52 pm popping..
NEW YORK CITY – President Benigno S. Aquino III shuns expensive lunch and instead settles for the cheaper authentic New York hotdog at the corner of Americas Avenue and 45th Street in New York, USA on Thursday (Manila time) Sept. 23, 2010. P-Noy recalled that his family used to eat pizza and chao mien when their family stayed in Boston while his late father former Senator Benigno Aquino, Jr. was in exile. (Photo By Jay Morales Malacañang Photo Bureau)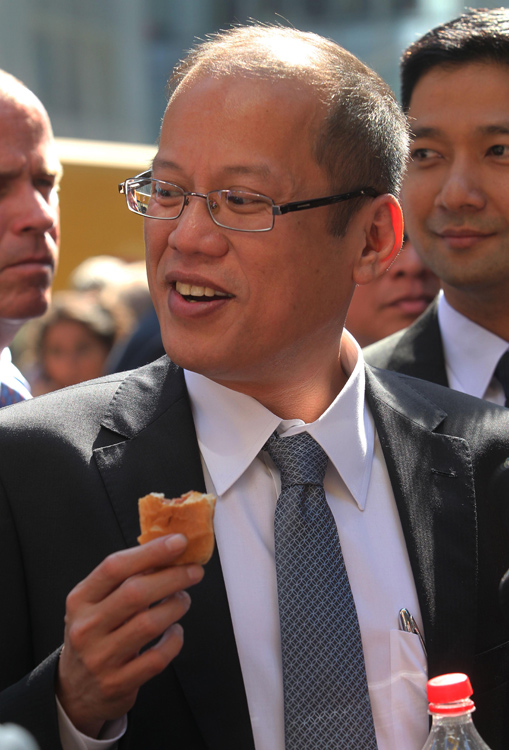 This is one classic example of "damn if you do, damn if you don't." No matter what you do, you can't please everyone! Just because you're President, doesn't mean you can't eat hotdogs from a vendor anymore! What's so wrong about a "President" eating hotdog on a side street? I say Yay!! Kudos to you, Pres Noy! It shows you can be president of a country and still act just like the rest of us! I don't believe for a minute that you did this for "show." You've lived a long time in Boston, MA where I am from. I frequent New York and a stop at the world famous New York Sabrett hotdog stand is a must!!

"Ask any New Yorker, "What's a Sabrett®?" and they will quickly answer "The best tasting hot dog in the world!" In New York, you don't even have to say Sabrett® and hot dog in the same sentence because the two are synonymous!"
One simply can't visit New York without trying at least one hotdog from any vendor!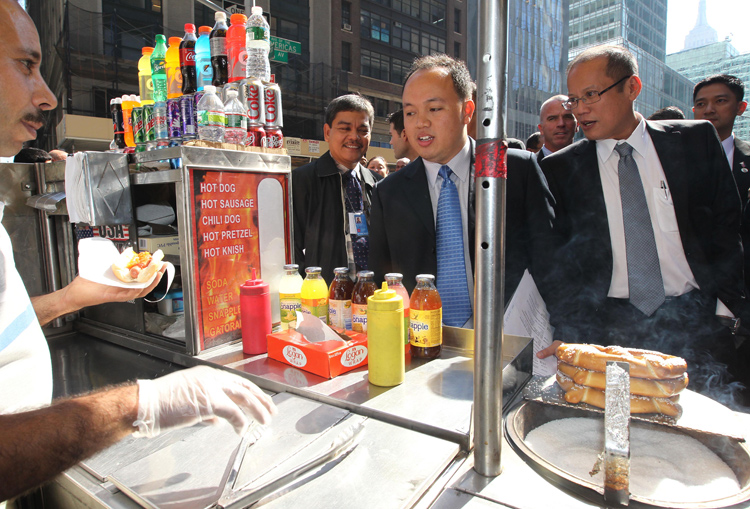 Criticism over Philippine leader's NY hotdog binge

MANILA (AFP) – President Benigno Aquino's spokesman on Friday defended the Philippine leader's culinary tastes after newspapers showed him eating hotdogs in New York, where he attended a UN summit.

The 50-year-old bachelor came in for heavy criticism on social networking websites for his street-side food trips.

"Two views here — not presidential or down-to-earth. He loves to eat hotdogs. When in the US you would like to try the hotdogs," his spokesman Edwin Lacierda told reporters.

"That was not scripted. He was looking forward to it."

Aquino, who comes from a wealthy family, has sought to portray himself as the opposite of predecessor Gloria Arroyo, once criticised for treating her entourage to a 20,000-dollar meal at the famous New York restaurant Le Cirque.

Aquino had pledged to be frugal in his ongoing US visit, his first foreign trip as leader, bringing only a small delegation with him.

But visitors on Aquino's popular Facebook account begged to differ.

"Do we really need this?," wrote one anonymous commentator.

"What if the food is poisoned?"

Lacierda said Aquino spent 54 dollars to treat himself and members of his cabinet — as well as Filipino reporters — to hotdogs, while stressing that the president has also since gone to a steak house and eaten pasta.

via Yahoo News
Browse Timeline