US: Inverted Philippine flag was `honest mistake'

1 Comment
September 26, 2010 – 3:59 pm popping..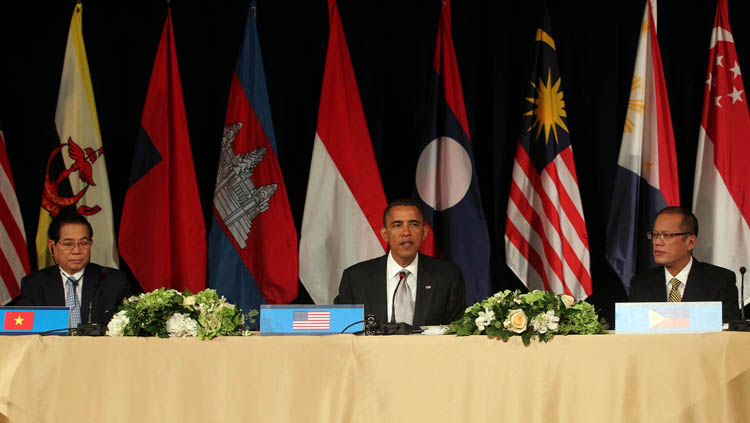 NEW YORK CITY – President Benigno Simeon Aquino III, Vietnam President Nguyen Minh Triet and US President Barack Obama in a press conference at the Waldorf-Astoria Hotel on Friday (Saturday in Manila). The leaders discussed points of cooperation and agreement between the United States and the member of the Association of Southeast Asian Nations (ASEAN). President Aquino serves as the coordinator of the summit as the Philippines is the current Country Coordinator for the ASEAN-US Dialogue relations for 2009-2012. (Photo by: /Malacañang Photo Bureau)
MANILA, Philippines – The U.S. government said Sunday it made an "honest mistake" when it displayed an inverted Philippine flag — which wrongfully signified that the Southeast Asian nation was in a state of war — in a meeting hosted by President Barack Obama.

The Philippine flag was displayed upside down behind President Benigno Aquino III when leaders of the Association of Southeast Asian Nations met Obama in New York on Friday.

"This was an honest mistake," U.S. Embassy spokeswoman Rebecca Thompson said in a statement, adding, "the U.S. treasures its close relationship and close partnership with the Philippines."

The American embassy will find out how the "unfortunate" incident happened, she said.

Philippine foreign affairs department spokesman Ed Malaya said the government understood that it was "an honest error" that "should not detract from the true significance of the summit, which showed the unprecedented cooperation between the ASEAN and the U.S."

It was not immediately clear who pointed out the mistake. A photograph of Aquino sitting beside Obama with the inverted flag behind them was displayed on a government website Sunday but its caption did not point out the error.

During the summit, Obama discussed ways of bolstering economic ties between the U.S. and Southeast Asia as well as Asian regional concerns such as territorial disputes in the South China Sea and Nov. 7 elections in military-ruled Myanmar.

via Yahoo News
My two cents:
It is ludicrous to say that this carelessness is a reflection of Obama or the US but you'd think in a convergence of political leaders among nations, with the US as host– someone would put in some attention to detail considering there are only ten, TEN flags to think about!! The ten-member Association of Southeast Asian Nations (ASEAN) includes Brunei, Cambodia, Indonesia, Laos, Malaysia, Myanmar, the Philippines, Singapore, Thailand and Vietnam.
This inadvertent oversight of an upside down flag is another way of showing to us, Filipinos that perhaps we are really but insignificant – a speck. The United States may have forgotten that we have been 'friends' with them dating back over a hundred years when the Spanish government ceded the Philippines to the US in 1898. That depending on which side we're on, seeing the US as either a friend or an ally- there is one certainty- there still lies among Filipinos a strong leaning towards embracing American ideals and looking up to their standards. Then they falter to something as minor (to an outsider) as inverting our country's flag, YET have symbolic meanings (to Filipinos!).
To a non-Filipino, this Yahoo breaking news may come off as 'big deal, why is this front page news?' or 'who cares?' but wait till it happens to their own flag and it's a different story. Nevertheless, at the end of the day, what is there really to say but "sorry, it was an honest mistake;"  and everyone moves on and forgets the story and there will be other breaking news the next day…
Browse Timeline