Manny Pacquiao is Unstoppable, dominates Antonio Margarito!

1 Comment
November 14, 2010 – 3:56 am popping..
The best boxer in the world has won once again, as Manny Pacquiao put on a brilliant fighting display, defeating Antonio Margarito in dominant fashion on Saturday night in Dallas.
At the outset, it was impossible not to notice the significant size difference between the two: At 5-foot-11 Margarito is five inches taller than Pacquiao, and HBO said Margarito weighed 17 pounds more than Pacquiao when both stepped on the scale on Saturday night.
But once the action started, it was impossible not to notice the significant advantage in hand speed of Pacquiao: His punches were a blur, and Margarito was simply powerless to react.
By the end of the fifth round, Margarito's right eye was almost swollen shut. By the end of the 10th, both of Margarito's eyes were a mess. Pacquiao buzzed around the ring with ease and peppered Margarito's face with punches whenever he wanted to hurt his outclassed opponent.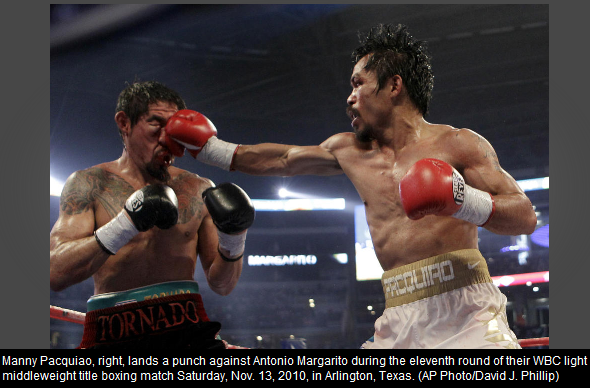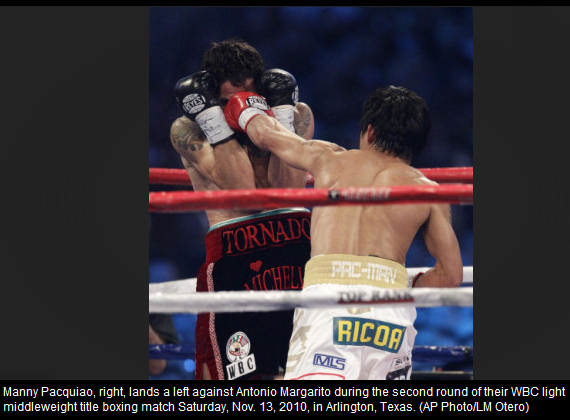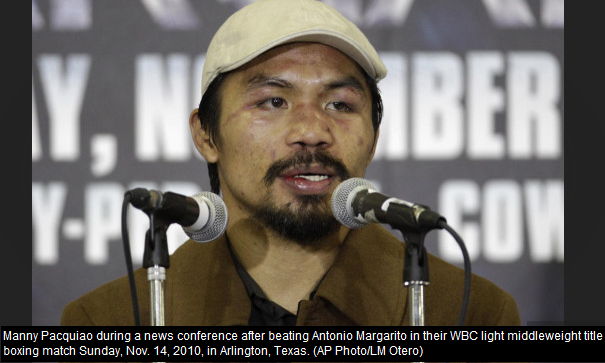 It would have been completely reasonable for Margarito's corner or the referee to stop the fight early, but Margarito insisted he wanted to keep going, and he was allowed to take a beating for 12 rounds. By the end, Pacquiao looked like he may have been taking some sympathy on Margarito and easing up, rather than following through and potentially seriously hurting Margarito.
"I did my best to win the fight," the soft-spoken Pacquiao said afterward. "I can't believe it. He's very tough and strong. I never expected that."
The judges scored it 120-108, 118-110 and 119-109 for Pacquiao. I scored it 120-108 for Pacquiao, who said after the fight that he slowed down a bit in the final rounds because he felt sorry for Margarito.
"I felt pity to my opponent, looking in his eyes and his bloody face," Pacquiao said.
The win improves Pacquiao's professional boxing record to 52-3-2 and earns him the WBC light middleweight title — the eighth different weight class in which he has won a championship, an all-time boxing record. (Margarito falls to 38-7.)
This was Pacquiao's night to shine, and to show once again that he's the best.
via FanHouse, By Michael David Smith
Browse Timeline