Philippines' ram pump project wins 2010 BBC's World Challenge

No Comments
January 17, 2011 – 2:35 am popping..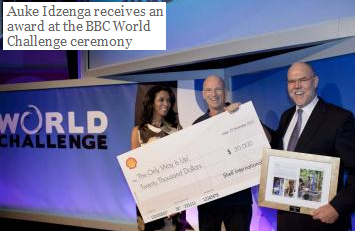 Last month, BBC World News broadcast the final of the World Challenge 10 series. The winner was 'The Only Way is Up', the ram pump project from the Alternative Indigenous Development Foundation (or AIDFI).
I called on readers to join me in voting for the Philippine project last year. Read more about the project here.

The Philippines-based initiative – which won an Ashden Award in 2007 – uses the power of a river's flow to push water uphill. AIDFI has introduced the pump to over 170 villages.
There were 800 nominations from over 70 countries, from which 12 projects were selected. More than 167,000 people round the world voted online for their favourite. 'The Only Way is Up Project' received US $20,000 prize from Shell.
News from Ashden Awards
Browse Timeline