Thia Megia, the fourth Fil-Am to make it as finalist on American Idol in 10 years!

1 Comment
March 5, 2011 – 4:26 am popping..
UPDATE: On March 31st, Thia was voted off on American Idol after a double elimination joining Naima Adepapo in a 10th place finish. What a sad and disappointing outcome! However, Thia and Naima will join the rest of the 11 finalists in the Summer Live Tour happening in July 2011. She has a whole new door and windows to open ahead of her…
Kudos, Thia! Will be following your long career… :)
-0-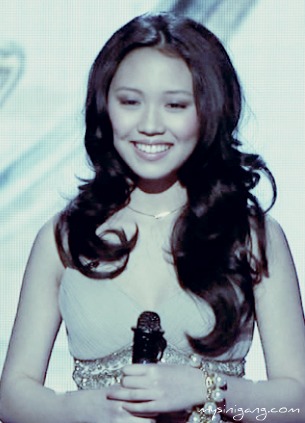 I called it in 2009 that with the right break, Thia Megia could have a place in the music industry!
Her America's Got Talent stint seem distant now, seeing her again at 16 years old on the American Idol stage looking grown up and blooming beautifully.
Fil-Ams on Idol
On March 3rd, 2011- Thia became the only fourth Filipino-American to ever make it into the finals of American Idol in ten years. She is one of the Top 13 finalists currently competing for the title and a recording contract.  Six years since Camille and Jasmine took the Idol stage and three years since Ramiele's time.
In 2004, Camille Velasco and Jasmine Trias both of Filipino descent, sailed through what could be the most controversial season on Idol history. Season three was the year, Fantasia won. The year La Toya London and (now Academy Award winner) Jennifer Hudson were booted off ahead of Jasmine! While Camille finished early in the 9th place, Jasmine held on for weeks and weeks way into the Final three!!

Ramiele Malubay auditioned for Season 7 in 2008. She finished 9th in the competition and secured a spot to go on a nationwide tour with the Top 10 finalists for the Idols Live Tour Summer concert that same year.
… And truth be told, one can not underestimate the power of support from one's own. Even Jasmine's Wiki page acknowledges that her Idol success was "due in part to tremendous call-in support from California, New York, and her native state of Hawaii."
The Filipinos and Filipino-American community did it three times in the past, we can do it again this year! We can do it for Thia Megia!!
History unfolding
I am very excited to watch Thia's journey as she makes history happen!! She is making the entire Philippines proud and giving the Filipinos worldwide something to brag about. This is a good time to be a Filipino! :)
With so much happening around the world, entertainment is our only 'escape' from reality if only for a moment. Thia gives us something to look forward to on Tuesday Wednesday nights and forget about our worries!!
I am calling the 2.8++ million Filipinos and Filipino-Americans living in the United States to support our very own. She, along with Charice (and recently Maria Aragon) are representing the Filipino youth of this generation with charm, smarts, talent and beauty worth emulating.
Most importantly, to everyone comprising the majority- the American voting public– please give Thia Megia a chance to shine. Discover her talent and vote for her!  :)
American Idol is on every Wednesday & Thursday nights on FOX at 8/7pm (central) until May 2011. The performance night is Wednesdays and that is when you vote. The results show follow the next day.

Get your Thia Megia fix from this website.