Fil-Canadian Maria Aragon: Another breakout star on YouTube. What is so special about her? (Videos)

1 Comment
March 6, 2011 – 6:27 pm popping..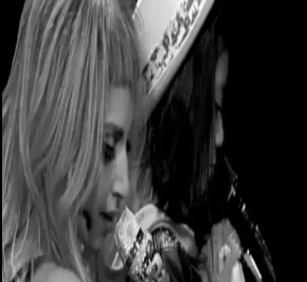 If you told anyone 10 years ago that in the future, someone can be famous and reach millions and millions of people around the world in one week's time, no one would believe you.
The 'future' of instant fame happened six years ago when three cool geeks from California invented YouTube in 2005. Since May 2010, YouTube exceeds 2 billion views a day. 2 billion. Since March 2010, there are 24 hours of video uploaded PER minute. I thought there should be more but over the years, there have only really been a few breakout artists who attribute their good fortune to YouTube: Arnel Pineda, Charice, Greyson Chance, Kina Grannis, Marie Digby, and Justin Beiber comes to mind.
That's what is special about Maria Aragon, a Filipino-Canadian 10-year old girl from Winnipeg, Canada. NOT everyone gets their chance! Her simple video of her covering Lady Gaga's new track "Born this way" stood out from the hundreds of cover of the same song. She wasn't trying to be anything. She wasn't trying to copy Lady Gaga, she was just doing her own interpretation of the song!
Her charming, innocent rendition, subtle nuances, powered by talent–she can sing and play the piano– set her apart, out of the pile of millions of videos on YouTube.

What is most special about this fantastical story is Lady Gaga herself and what THE Lady did for Maria Aragon. I don't have to tell you that Lady Gaga is considered to be among the most powerful and influential celebrities in the world and the top selling artist of 2010, do I? Show me one person in the world who hasn't heard of Lady Gaga! :)
Sure, someone sent Lady Gaga the video but she could have ignored and passed on the video. Instead, she spent three-minutes of her time to watch the recording. Not only that, on February 17th, she sends a Twitter message to her 8 million followers that the video made her cry.
"Can't stop crying watching this. This is why I make music. She is the future," she tweeted with the link to the video.
Just like that, the video has gone viral in a Justin Beiber fashion. In less than a week, the video garnered over 19 million views! But Maria's legendary luck doesn't end there. She receives a telephone call from Lady Gaga!
"Not only do you have such a beautiful voice and you are so joyful to watch, but every once in a while, whether people believe it or not, I have a very bad day," Lady Gaga said to the shocked Maria.
Next thing you know, Maria Aragon goes flying to the United States to perform for the Ellen DeGeneres show! On March 3rd, she was on the stage of Lady Gaga's "Monster Ball Tour concert" performing with the pop star!
I wish I had the same enthusiasm and drive as Maria. When I was 10, all I did was play and sleep! Heck, I'm old-er and all I do is play and sleep!!
It's 2011 and fairy tales do happen and dreams do come true. The world has embraced technology and the internet, take the good with it and make something happen…
Timeline:
February 16, 2011: Maria Aragon's "Born this Way" was uploaded on YouTube.
February 17, 2011: The video has gone viral after Lady Gaga's tweet.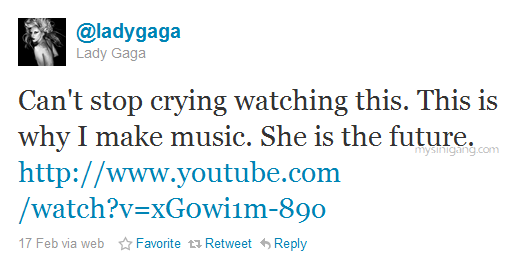 Somewhere in between, the telephone conversation between the two.

February 21, 2011: Ellen DeGeneres meets Maria Aragon
February 25, 2011: Maria Aragon visits "Good Morning America" on ABC


March 3, 2011: Maria Aragon performs with Lady Gaga in front of a packed audience at the Air Canada Centre in Toronto, Canada.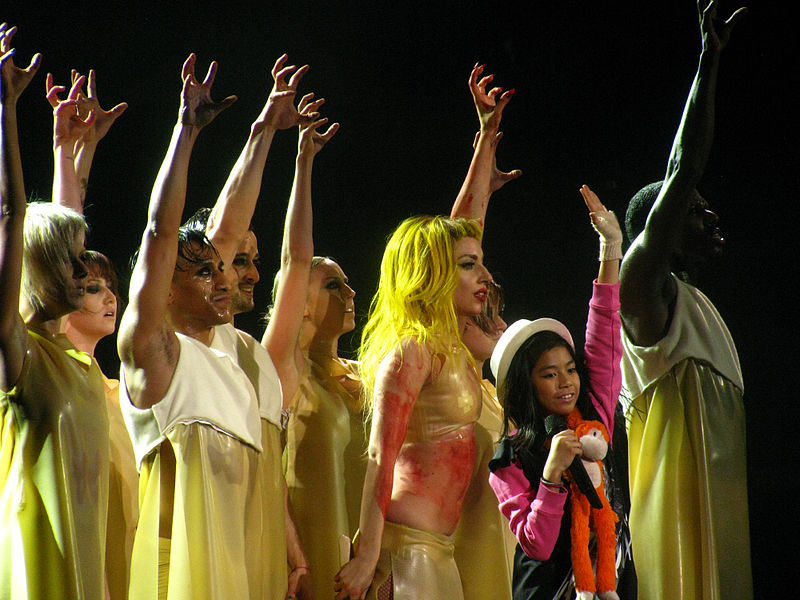 Photo by Tara Salt.
March 4, 2011: Lady Gaga tweets a photo of her and Maria writing: "Myself +10 year Old Lady Maria of Winnipeg. She signed my t-shirt, she ate my heart, just like you."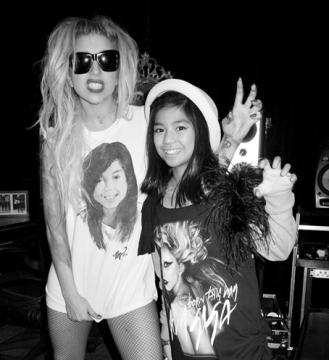 March 5, 2011: Lady Gaga tweets a link to her and Maria's 'concert' together. "Maria and I singing Born This Way together. She (You) is why I wrote the song. Thanks for making it #1 for a 3rd week…"