Be a part of "Everyman's Journey," the documentary on Arnel Pineda's fascinating story…

1 Comment
April 4, 2011 – 1:49 am popping..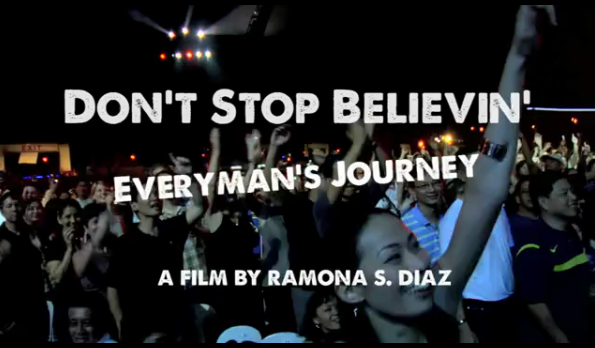 At one point in his life, Arnel Pineda made twenty cents a day gathering scrap materials at a pier in the Philippines. Eventually he made ends meet singing for cover bands in a few marginal bars. Born into poverty and raised on the streets, Arnel abused drugs and alcohol to escape the turmoil of his everyday life. But he never stopped singing and believing in his talent – even when he almost lost his voice for good on two separate occasions.
Following a haphazard decade of singing in various bands, Arnel decided to clean up and follow his dreams. He formed a new cover band called Zoo and performed as much as possible to raise the band's profile. As the band progressed, an admirer of Arnel's began posting clips of the band to Youtube in hopes of spreading the word to potential new fans.
Little did he know he'd find one in Neal Schon, lead guitarist of the iconic American rock band Journey. Nor could he have expected that Arnel would be asked to audition to be lead singer of the band! Our independent film Don't Stop Believin': Everyman's Journey intimately chronicles the amazing true story behind Arnel's overnight rise to international stardom. As media hype starts to mount worldwide, we follow Arnel as he deals with a new set of obstacles and pressures – which push him further on his personal journey than he could have ever imagined.
Arnel's story is a fascinating look at how fame and celebrity have transformed in our super-connected Youtube age. Like fellow Youtube sensation-turned-pop icon Justin Bieber, Arnel was catapulted to stardom after being "discovered" by sheer chance. Our film follows him through this uncharted world of democratized media, where a celebrity's fame is fueled by viral hype and destroyed by short attention spans and fickle opinions.
Do you want to be part of a real-life rock'n'roll legend in the making? The good news is that the film has already been shot. We now need to raise $50,000 to kickstart the editing phase and need your support! Whether you're a Journey lover, an Arnel follower, a documentary buff, a fan of inspiring true stories, or simply want to get involved, we are looking for "Believers" to help us finish our film. Join us! Thanks in advance for your interest and support.
VISIT THIS PAGE TO CONTRIBUTE…
Sign up for updates and view the teaser trailer, full synopsis, filmmaker bios, at the official website: http://everymansjourney.com/.
Join on Facebook by "liking" the fan page and adding as a friend on their official page.
If you tweet, you can follow them at their official twitter page. Please tweet about the film, and be sure use the hashtag #EverymansJourney.
Be sure to check out on imdb.com as well.
Browse Timeline