Arjohn Gilbert, the street kid singer from the Philippines is YouTube trending. It's about time! (Videos)

No Comments
August 6, 2011 – 10:54 pm popping..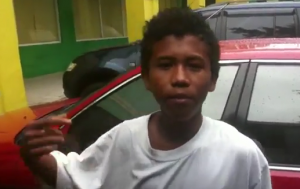 Timing is everything for this Filipino street kid who sells flute in the streets of Clark, in the province of Pampanga, Philippines. On the side, he sings to his customers and allows them to video him while singing! He's got pure, raw natural talent. In this video below, he is covering a number of hit songs including that of Justin Bieber, Bruno Mars, and Ne-Yo.
The clip has been viewed over 100,000 times in the first 24 hours it was posted on August 3rd and is spreading virally on blogs, email and social media. Only three days later today, it has already garnered over 700,000 views and counting!
I say timing is everything because upon further research on YouTube, this kid has been around in the popular uploading site being filmed by others who were also clearly impressed by his singing voice. This year and the video above may just be the key to get him noticed by Hollywood or who knows record labels! We expect this kid to appear on the Ellen DeGeneres show soon just as when Charice exploded on YouTube and she was flown from the Philippines to appear on the Ellen show not too long ago.
Here below in a 2008 video, the same boy is identified as that from an Aeta descent*, Arjohn Gilbert, singing the Coblie Caillat hit "Bubbly." In another 2008 video, he is singing "Always be my Baby" by Mariah Carey.


In this 2010 video, user Jothan Gaetz is urging people to repost the video he took of Arjohn with another kid. His description explains his ultimate goal- to get Arjohn discovered:
" The boys in this video go by the name DJ Ryan, and Arjohn. Both of them are street kids in the Philippines. My wife and I befriended them recently, and Arjohn asked us to help him get discovered. Arjohn wants to be the next Charice. You can help him pull himself up out of poverty by reposting this video and watching it as many times as you can. If you are a record producer, please contact me, I can bring you to him. Find me on facebook under "Jothan Gaetz" "
This kid has been featured in a TV news program in 2009 channeling Rihanna and Mariah Carey!
Yet again in a 2009 short TV documentary, this kid's talent is featured and highlighted. Why is this kid NOT discovered yet by record producers?! Timing is everything…
*Aeta: an indigenous people who live in scattered, isolated mountainous parts of Luzon, Philippines. They are thought to be among the earliest inhabitants of the Philippines, WIKI
Browse Timeline