The most unusual prayer from Pastor Joe Nelms – Nascar Nationwide Race in Nashville, TN (videos)

No Comments
August 8, 2011 – 5:17 am popping..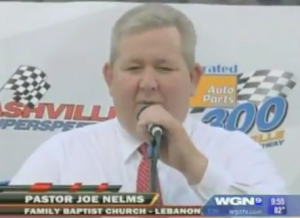 Pastor Joe Nelms made headlines (sort of) recently when the media and YouTube caught on his most unusual pre-race prayer, said during the Nascar Nationwide Race in Nashville, TN on July 23rd.
As if his prayer wasn't enough to cause giggles and a few laughs, Songify This made a song out of the prayer and it became even funnier. "Pastor Joe Nelms gives a moving pre-race prayer in the form of a country song all men, women, & children can dance to," YouTube uploader schmoyoho says of the video parody they created.
Have a listen to the Songify This version first:
Then watch the original version: