Philippines: 8th world's friendliest country according to expats; Who's No.1?

1 Comment
January 17, 2012 – 3:11 am popping..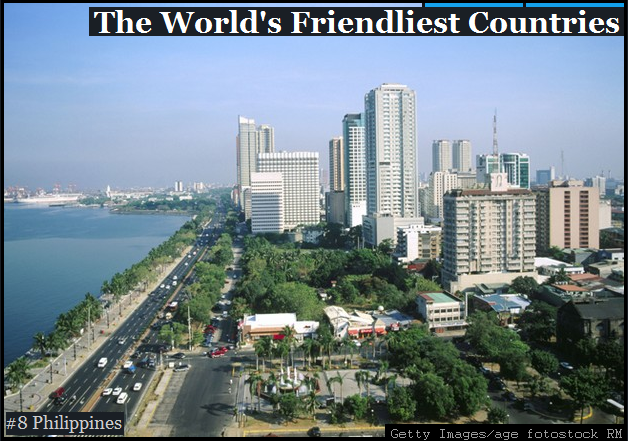 From an article on Forbes by contributor Beth Greenfield, the Philippines ranked number 8 in the HSBC's Expat Explorer Survey, released last month. "This country is friendly on wallets, too: 47% report an increase in access to luxuries, including domestic staff, swimming pools, and owning properties," the survey revealed.
And I thought we were ranked number one or somewhere in the Top 3! (Nah, not really…)
The top three nations dubbed as friendliest of all countries ranked highest in the following: they are the easiest to befriend locals, learn the local language, integrate into the community and fit into the new culture.
15 France

14 Singapore

13 Mexico

12 Italy

11 Brazil

10 Malaysia

9 Spain

8 Philippines

7 United Kingdom

6 Turkey

5 United States

4 Canada

3 South Africa

2 Australia

1 New Zealand
via Forbes on Yahoo News
Browse Timeline